Arizona's Economy Is Booming
Arizona's economy is booming. Over the last several years we've solidified a reputation as a beacon of economic prosperity. It's easy to see why: people are tired of burdensome overregulation and high taxes, and companies are relocating to states like Arizona that embrace free enterprise and bringing high-paying jobs with them.
Personal income rose last year at a rate faster than nearly any state in the country and an expected 325,000 jobs will be added by Spring 2022.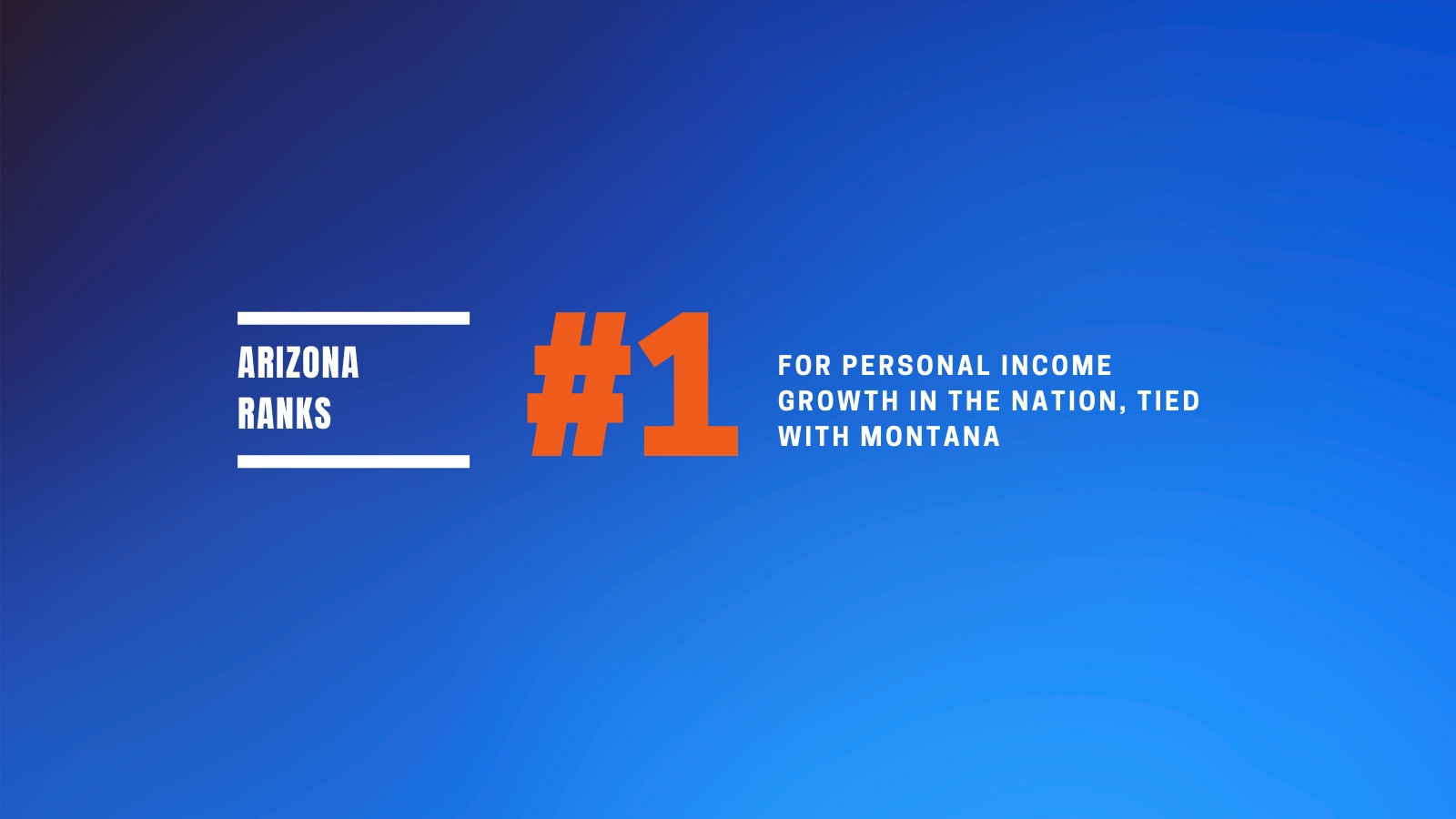 Arizona Is Seeing Record Revenue Growth
With economic success, comes record revenue growth. Our General Fund revenue is up about 25% and last year the state collected $2B more in tax revenues than the previous year. That makes for five consecutive years that Arizona's revenue collections exceeded budgeted forecasts. In fact, economists forecast Arizona will have a $4 billion budget surplus over the next three years.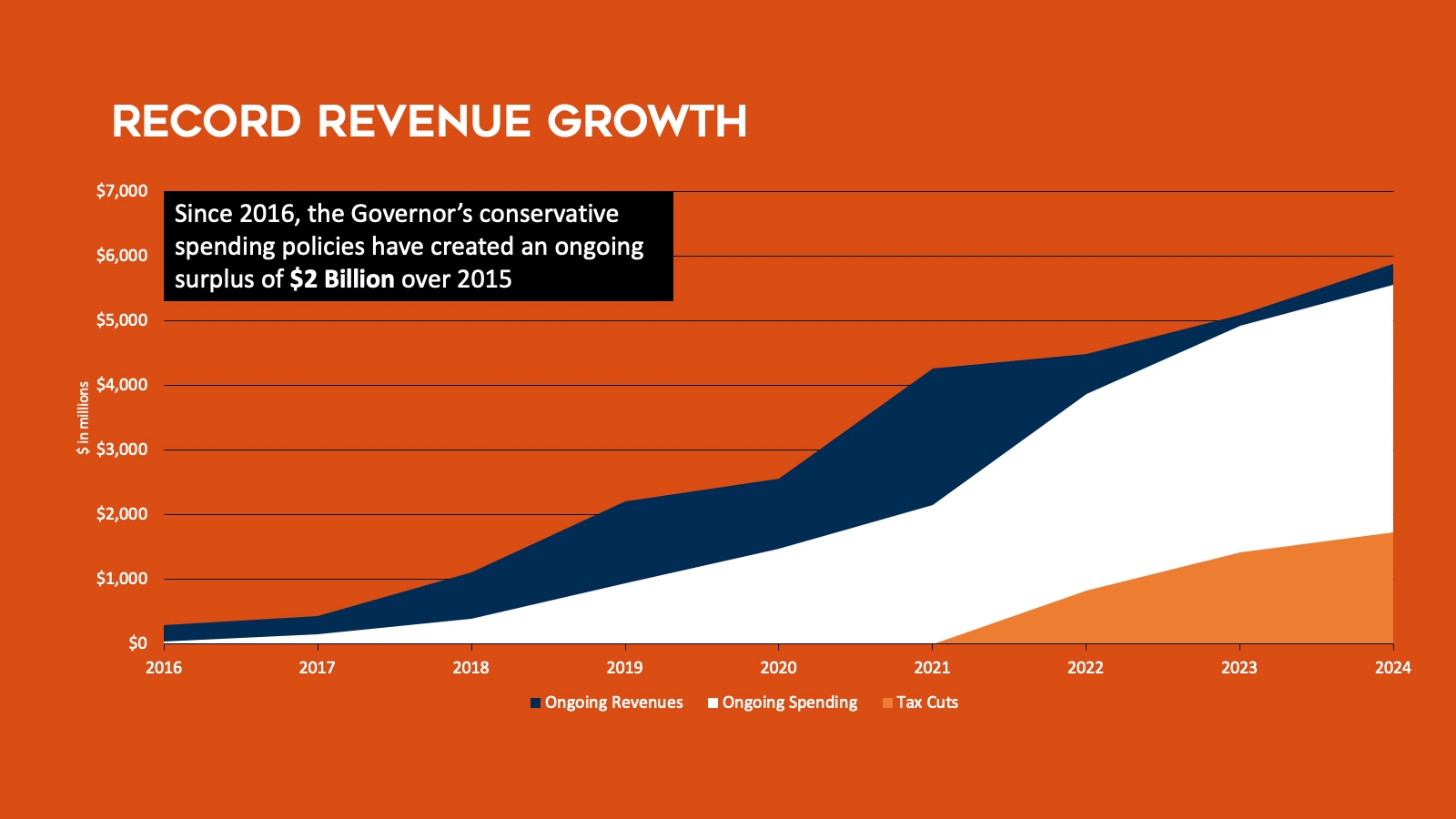 Arizona Is Investing in the Things that Matter
Rather than growing government unnecessarily, Arizona has taken a responsible, conservative approach to spending ⁠— prioritizing the things that matter most to Arizonans. We've made record investments in K-12 education, universities, infrastructure, and even put away $1 billion in the state's rainy day fund.
Our budget continues these important investments and includes funding for key priorities, like education funding, public safety body cameras, new roads and bridges, long-term water projects, child care and affordable housing.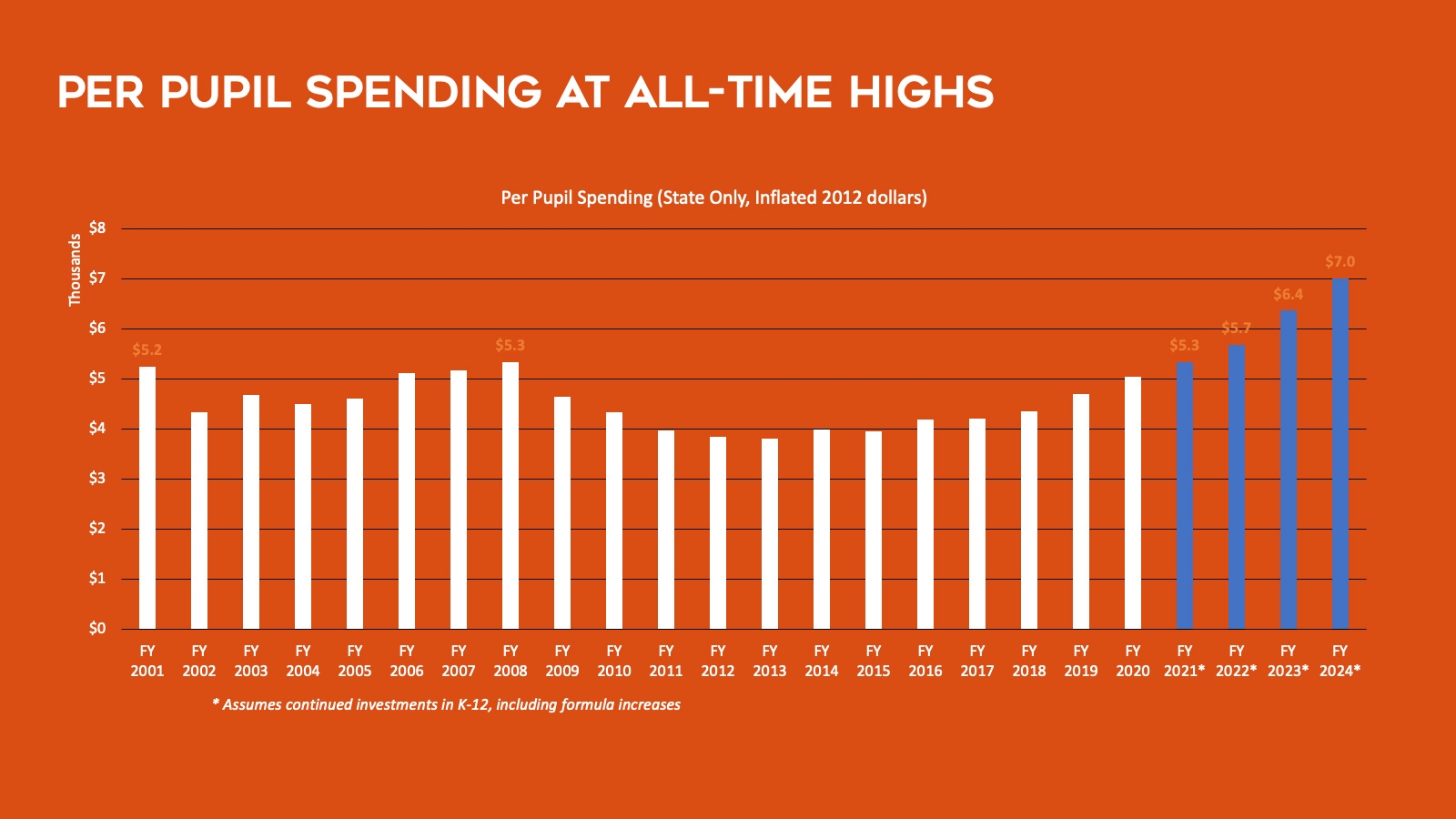 Our Plan: Tax Relief for Every Arizonan
From Veterans to working families, to small businesses ⁠— we've developed a tax reform plan for all Arizonans. Rather than increasing spending and growing government, our plan returns the state's record revenues to hardworking taxpayers. With our plan, every Arizonan will see a reduction in their tax rate, no matter their income.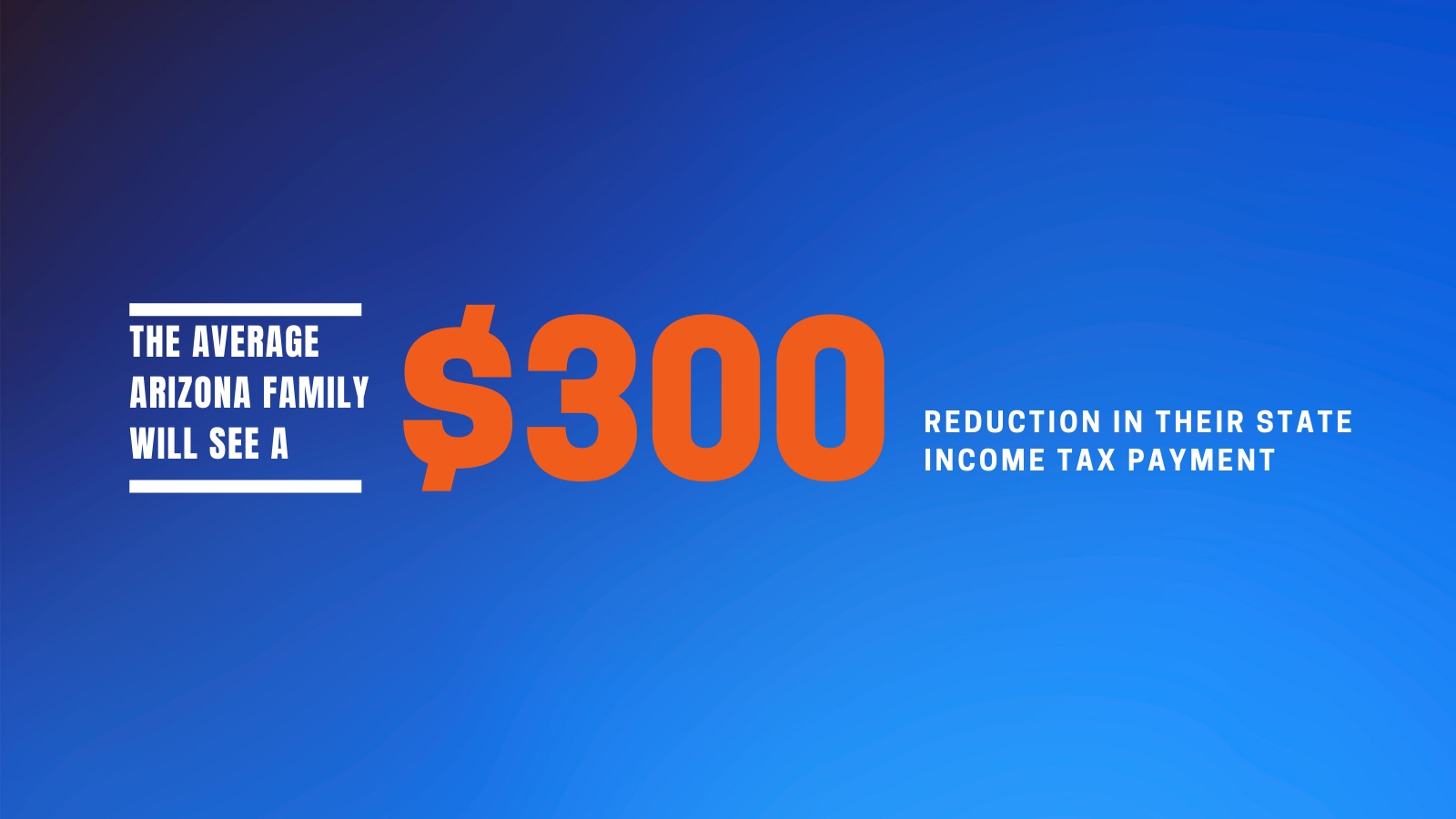 Our Plan: Protecting Small Businesses
Small businesses continue to choose Arizona to start, expand or relocate operations. They are the backbone of our state's economy, making up more than 99% of Arizona's businesses and employing more than one million people.
The Governor's historic tax plan will protect them from burdensome tax hikes by placing a tax max rate of 4.5% and reducing commercial property taxes.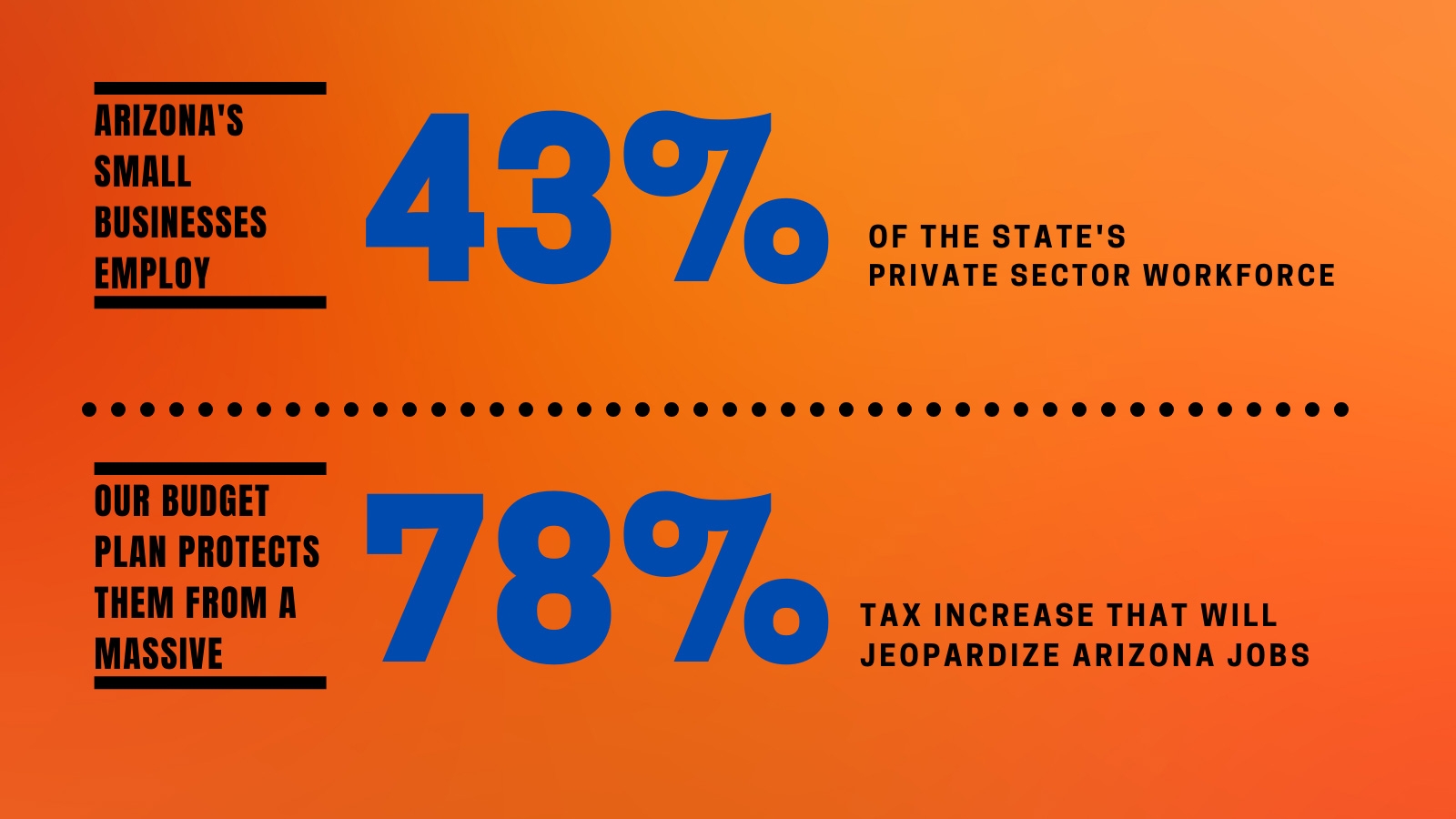 A Responsible Path Forward
The governor's plan is sustainable, ongoing tax reform that ensures the state can continue investing in the things that matter. It's a plan that leaves the state's budget balanced while letting Arizonans keep more of their hard-earned money, and preserves Arizona's economic competitiveness with surrounding states.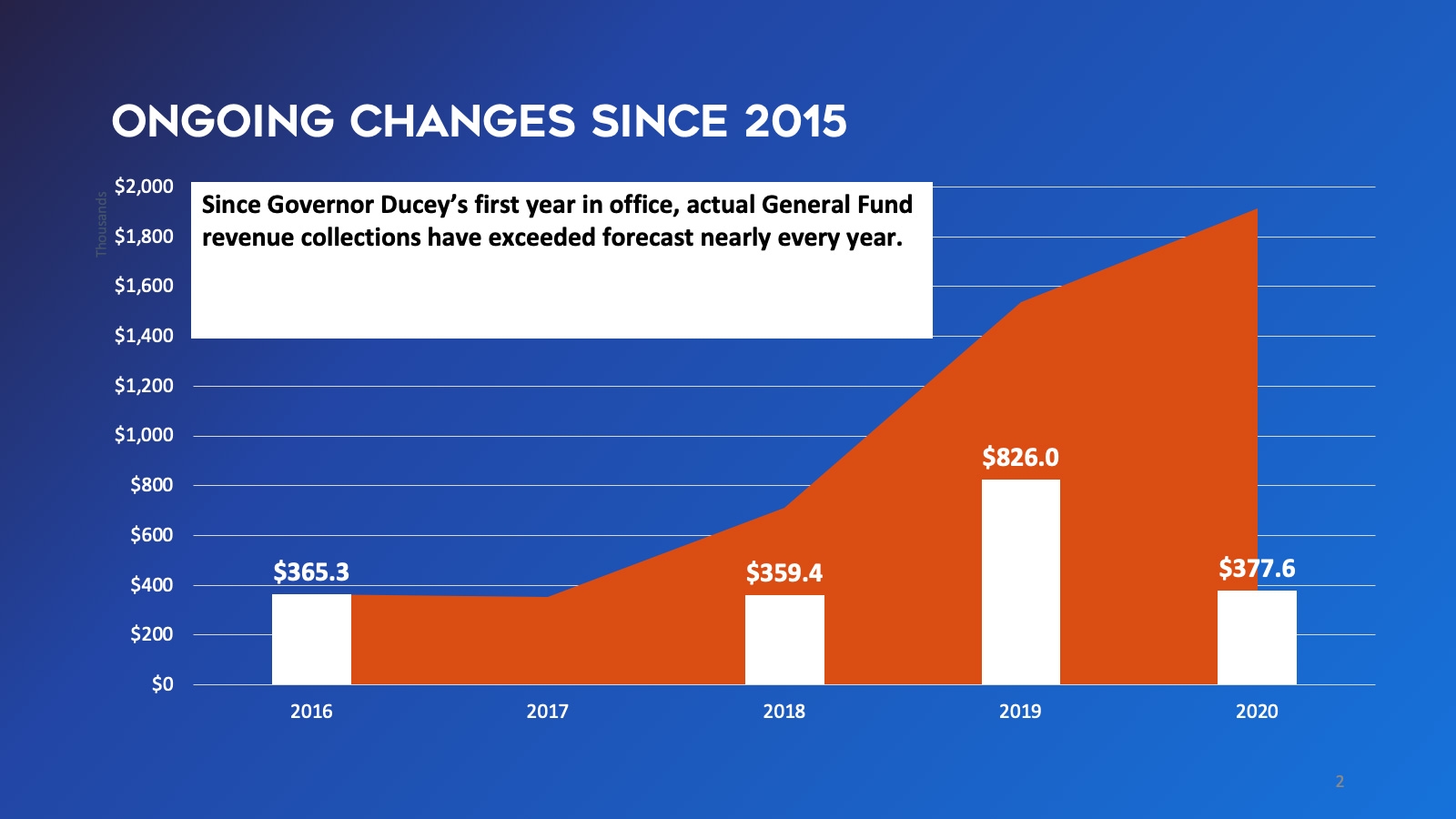 Support Our Plan
Let's get this plan across the finish line. Contact your local legislator and ask them to vote yes on the state's budget plan, and sign your name below to show your support!
I support tax relief #ForArizonans
Supporters of the Budget Plan
MARY ALMQUIST, LITCHFIELD PARK
Susan Anders, San Tan Vslley
Heather Ashfield, Glendale
Robert Bandera, Wickenburg
Stephen Barkley, Oro Valley
Madeleine Barney , Sun city West
Edson Barrantes, Chandler
Catherine Barrett, Phoenix
Thelma Beaulieu, SURPRISE
Richard Benedict, Surprise
Johanna Bergin, Scottsdale
Richard Billings, Flagstaff
Christopher Bistolas, Chandler
Kimberlee Bowers, Surprise
james brockelman, kingman az
Lori Bruggeman, Scottsdale
gianna buono, Litchfield Park
Taylor Burke, Paradise Valley
Richard Burke, Paradise valley
Michael Burris, Queen Creek
Dr. JAMES BUTKIEWICZ, SCOTTSDALE
DEBORAH CALDERON, Sierra Vista
Margaret Campbell, Prescott Valley
Andrew Cannella, Carefree
Deborah Carroll , Golden Valley
Raymond Caryl, Oro VAlley
Richard Chenault, Chandler
Susan Christensen, Queen Creek
Georgetta Christensen, Mesa
Lynn Christenson, Gold Canyon
Shannon Clark, Scottsdale
Annette Clendenen, TONOPAH
Michael Cloutier , Waddell
Cynthia Collins, Scottsdale
Stephen Colombo, Scottsdale
Patrick Connell, Overgaard
Mercedes Coronado , Tempe
Brian Cousins, SCOTTSDALE
Terrie Davidson, Wickenburg
Neal Davis, Prescott Valley
James DeHaeseleer, Chandler
Robert Despathy, Cave CREEK
Rudy Detgen, sun city west
Michael Dettmer, Prescott Valley
Charlotte Dietz, Sun City West
Kevin Doyle, San Tan Valley
William Driscoll, Phoenix
kendall edwards, Scottsdale
Ann Elfister, Fountain Hills
Jeffrey Eriks, Scottsdale
Marcy Fileccia, Scottsdale
Robert Fischbein, Goodyear
Jeffrey Fleetham, Phoenix
ALEXANDRA FLORYA, GILBERT
Mark Forster, Fountain Hills
Calvin Foster, Martinsburg
Elliot Friedman, Scottsdale
Jeff Gardner, Paradise Valley
Gary Garrett, Fountain Hills
John Gogolak, Paradise Valley
Pedro Carlos Gomez, Phoenix
Raymond Gomez, Fountain Hills
Patricia Graham, Scottsdale
Theresa Gregory, Paradise Valley
Michael Gregory, PARADISE VALLEY
Austin Guerra , Queen Creek
Roger Hansen, AZ - Avondale
Bill Headley, Phoenix, AZ
Michael Hennessey, Coolidge
Donald Heredia, Oro Valley
Charleen Hering, Scottsdale
CarloAdrian Hernandez, Tucson
PATRICK P HERNANDO , Yuma
Jonathan Herrick, Phoenix
Rebekah Hess, Bullhead City
Stratton Hickcox, CAVE CREEK
Robert Hobbs, Paradise valley
William Hofmeier, Kingman
Cynthia hogg, Black canyon city
Larry Houser, Litchfield Park
April Hullinger, Scottsdale
Roger Hutflesz, Sun City West
Barbara Kim Ireland, Marana
Mitchell Jackson, Wickenburg
Autumn Jackson, Flagstaff
Susie Jacobson, Rio Verde
Peter Johnson, Oro Valley
Nicole Johnson, New River
Larry Johnston, Prescott Valley
Keith Kandrashoff , Gilbert
David Kauppinen, Clarkdale
Todd Kerschbaum , Scottsdale
Lynn Kirimli, Paradise Valley
Kent Kirimli, Paradise Valley
Michael Klein, Scottsdale
Hilaire Kounouho, Phoenix
Lance Kramer , Wickenburg
Lee Krawczyk, Green Valley
Kelly Krygier, Scottsdale
ricardo landaburu, SCOTTSDALE
Kameron Lee, SanTan Valley
Sabrina Leonidas, Surprise
Lawrence Lievense, Sedona
Maria Lluria-Gossler, Tucson
Kristina Locke, Paradise Valley
Gina Lombardi, Scottsdale
Christian Lunday, Glendale
Cathy Lutjemeyer, Phoenix
Ronnie M Quillen, Goodyear
Patricia Madison , Surprise
Christin Maichrye, Oro Valley
Julissa Martinez, Surprise
Russell Mascari, Lake Havasu City
Mickie Maurer, Scottsdale
Stephen McConnell, Scottsdale
Chuck McCracken, Scottsdale
Kevin McGaffin, Scottsdale
Victoria McGraw, Green Valley
David McMenamin, Scottsdale
Christopher McNally, mesa
Michelle McNamara, Cave Creek
Kevin McNichols, Green valley
Louellen Meier, Cottonwood, Arizona
Don Mellen, Sun City West
Michelle Merolla , Prescott
Denise Merritt, Prescott Valley
Andrea Messenger, Glendale
Julie Miles, Prescott Valley
Marni Montague, Flagstaff
George Moriarty, Glendale
Shirley Moroni-King, Peoria
Ed & Barbara Murphy, Phoenix
Santino Musillami, Buckeye
Laura Nielson, Queen Creek
Shannon Nisse, Prescott Valley
Russ Norwood, Paradise Valley
Michael OHearn, Scottsdale
Christopher Page, Glendale
Helen Papietro, Sun City West
Bradford Partington, Gilbert
Anastasiya Pasterick, PHOENIX
Kristen Pearson , surprise
Phil Pearson, Lake havasu city
Michelle Peritz, Scottsdale
Christopher Perkins, El Mirage
Sharon Petterson, Gilbert
James Phillips, Cave Creek
Melissa Phillips, Surprise
Everett Pincolini, Surprise
Galina Polischuk, Phoenix
Wayne Powell, Lake Havasu City
Rhonda Powell, Lake Havasu City,
Michael Rapisand, Scottsdale
John Regni, Litchfield Park
Christopher RHODES, Casa Grande
B Louise Riddle, Chandler
Sarah Riggs, Paradise Valley
Kathy Ritenour, Queen Creek
Alberto Rivers, Queen Creek
Bill Roach, Paradise valley
Michael Robb, M.D., Phoenix
Peggy Rubenstein, Phoenix
Jeff Sandquist, Scottsdale
Terry Santiago, Scottsdale
Terry Santiago, Scottsdale
Candyce Schmid, Happy Jack
Leonard Schmitt, Hereford
Charles SCHMITT, Clarkdale
Charlie Scott , Fountain Hills
Lawrence Scottini, Avondale
Mark Senseman, Scottsdale
Joanne Sevrain, Paradise Valley
Christophe Sevrain, Paradise Valley
Michelle Shahbazyan, Scottsdale
Alonzo Shattuck, Fountain Hills Az
Charles Michael Shepherd, Mesa
Michael Shulby, Scottsdale
susan shultz, Paradise Valley
Christopher Shumac, Scottsdale
Marian Smith, Chino Valley
Mike Stachnik , Apache Junction
Joanne Stauffer, San Tan Valley
John Steinmann, Chino Valley
Karyn Stevens, Fort Mohave
Richard Stingley, Phoenix
Michael Stohler, SCOTTSDALE
Nichole Stohler, Scottsdale
Joshua Sugidono , Scottsdale
Jeanne Suliere, Scottsdale
Thiru Thangarathinam , Chandler
Chris Toci, Paradise Valley
Martha Trout, Queen Creek
Corina Valerio, Bullhead City
Kari Verjil , Bullhead City
Patrick Ward, Gold Canyon
William Weber, Queen Creek
Laura Jo Wentworth, Phoenix
Barbara Whitewater, Tempe
James Wichterman, SCOTTSDALE
James Wichterman, Scottsdale
Paul Willette , Golden Valley
Tina Williams, Scottsdale
Bonnie Williams, Apache Junction
Timothy Williams, Apache Junction
Glenda Williams, Glendale
Patricia Wisniewski , Sun City
Tabiatha Zeitler, Scottsdale
Christopher Zimmerman , Huachuca City