Governor Ducey, Fire And Safety Officials Provide Outlook Ahead Of Wildfire Season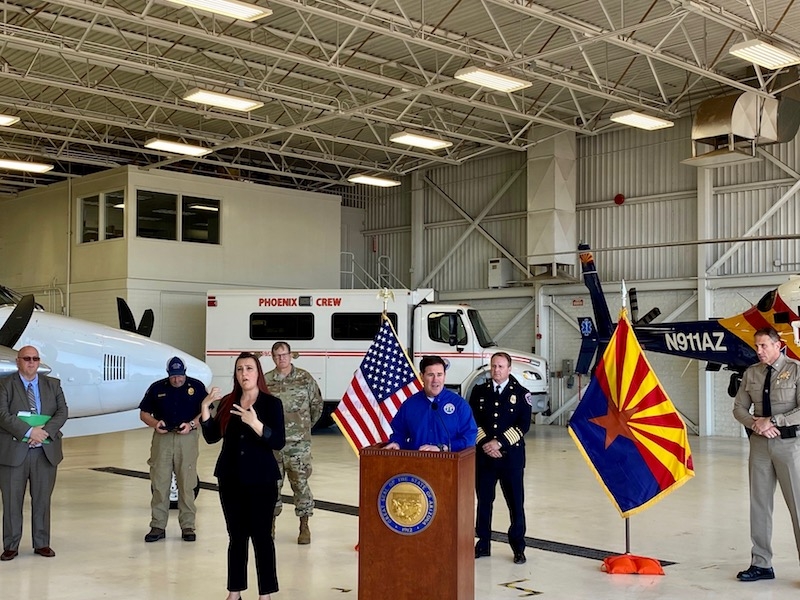 PHOENIX⁠ — Governor Doug Ducey, Arizona Department of Forestry and Fire Management (DFFM) Director David Tenney and State Fire Management Officer John Truett were joined by federal, state and local officials for an outlook on Arizona's upcoming wildfire season. Similar to last year, Arizona DFFM predicts a potentially active wildfire season in certain parts of the state this year.

"To help prevent wildfires, it is important that Arizonans enjoy our beautiful outdoors responsibly," said Governor Ducey. "There are many common sense precautions we can all take to minimize fire risk, including making sure campfires are out cold before walking away. My sincere thanks to the firefighters, safety officials and everyone working to protect lives, pets and property this season." 

"The health and safety of our firefighters, the crewmembers, and the public is our number one priority," said State Fire Management Officer John Truett. "We have a very large resource toolbox to assist us, including our aviation, local, federal, and tribal partners. However, it is imperative the people of Arizona stay vigilant, stay alert, and take extra precautions when working outdoors or recreating. It takes all of us to keep wildfire risk low and we are asking you to do your part."

To help prevent fires, Arizonans are directed to:
Ensure equipment like lawn mowers and chainsaws are in working order to avoid a spark that could lead to a fire;

Ensure trailer chains do not drag;

Practice responsible outdoor recreation and ensure campfires, matches or cigarettes are out cold before walking away from them;

And remember it is illegal and highly dangerous to fly a drone near wildfires.
Background:
In 2019, 1,867 wildland fires—78 percent of which were human caused—burned nearly 400,000 acres of private, state, federal and tribals lands in Arizona. This year, Arizona experienced a fairly wet winter — similar to the previous winter. This has led to more vegetation on the ground that can increase fire risk.
###