Arizona Recognizes Adoption Awareness Month
PHOENIX — Governor Doug Ducey declared November 2019 Adoption Awareness Month [1] in Arizona to highlight the importance of connecting children in need with loving families and forever homes and to recognize the organizations that are committed to supporting foster children.
"All children deserve to live in a safe, loving and permanent home," said Governor Ducey. "Adoption Awareness Month is an opportunity for all Arizonans to reflect on ways we can work together to support our children in foster care. It highlights our commitment to connect more Arizona foster kids with an adoptive family as well as the critically important work done by so many— especially adoptive parents and those who support them."
The governor and Mrs. Ducey earlier this week joined the Arizona Department of Child Safety [2], the Governor's Office of Youth, Faith and Family [3] and the Love Up Foundation [4], which strives to be a force for positive change and impact the lives of children and adults in our communities. The organizations work to support the Children's Heart Gallery, which features pictures and profiles of foster children  [5]throughout Arizona with the purpose of connecting them with loving families.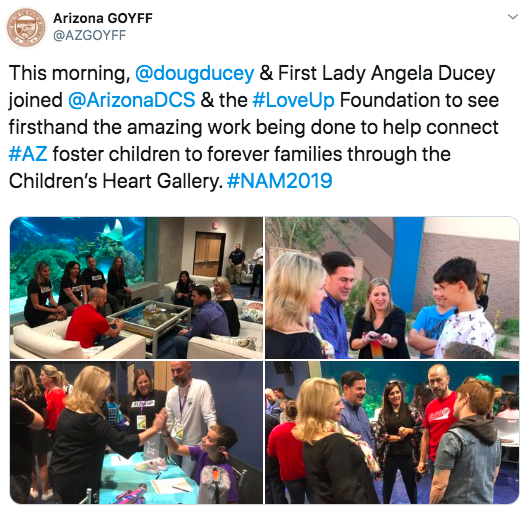 [6]
The Arizona Department of Child Safety is a national model for results-based improvements through its strategic planning and management system innovations. The efforts have resulted in [7] reducing Arizona's Child Abuse Hotline on-hold times from 12 minutes in February 2014 to less than one minute today as well as safely reducing the number of children in out-of-home care by 25 percent, from a high of 19,044 children in 2016 to under 14,214 in May 2019.
Arizona has also taken measures to increase investments targeted to kinship care [8], providing increased support to grandparents and other extended family members who raise younger relatives as their own.
Visit the Children's Heart Gallery HERE [5].
View a PDF of the proclamation HERE [1].
***
WHEREAS, the State of Arizona recognizes the importance of giving children who cannot safely reunify with their birth families a permanent, safe, and nurturing family through adoption; and
WHEREAS, state and private agencies work collaboratively with the courts, community members, and members of faith-based organizations to unite children and adults through the process of adoption; and
WHEREAS, adoption places children into loving, permanent homes where they can flourish and grow up to be happy, healthy, productive members of our community; and
WHEREAS, adopting a child is a great joy, but also a great responsibility for adoptive families and the communities who support the families who care for them; and
WHEREAS, people interested in adopting can visit the DCS Children's Heart Gallery website (https://www.childrensheartgallery.org/ [5]) to learn more about Arizona Children who are in need of safe, permanent family settings; and
WHEREAS, every successful adoption is more than an achievement for these children and their adoptive families; it is a story in which all Arizonans can share.
NOW, THEREFORE, I, Douglas A. Ducey, Governor of the State of Arizona, do hereby proclaim November 2019 as
ARIZONA ADOPTION AWARENESS MONTH
and urge all citizens, communities, and support organizations to renew our commitment to increasing the number of Arizona children who find permanency through a loving, adoptive family. 

IN WITNESS WHEREOF, I have hereunto set my hand and caused to be affixed the Great Seal of the State of Arizona

GOVERNOR

DONE at the Capitol in Phoenix on this thirtieth day of October in the year Two Thousand and Nineteen and of the Independence of the United States of America the Two Hundred and Forty-Fourth

ATTEST:

SECRETARY OF STATE
###