Governor Ducey Signs Bipartisan Legislation Extending Proposition 301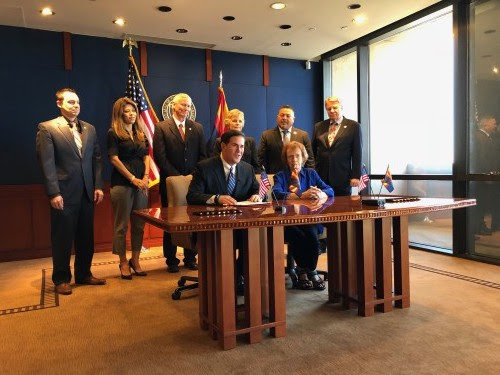 PHOENIX — Joined in his office by former Arizona Governor Jane Hull and both Democratic and Republican lawmakers, Governor Doug Ducey today signed SB 1390, bipartisan legislation to extend Prop 301 for another 20 years. The legislation, sponsored by Senator Kate Brophy-McGee and Representative Doug Coleman, protects a $667 million a year funding stream to Arizona schools.
Prop 301 is a voter-approved initiative passed in 2000 and championed by then Governor Hull. It provides million of dollars annually in education funding. It was set to expire in 2021, and this legislation extends it to 2041, providing certainty to Arizona schools.
"Nearly 20 years ago, Governor Hull and Arizona voters passed Proposition 301. Today, elected leaders have worked together, in a bipartisan fashion, to keep this funding stream alive for our schools, teachers and students," said Governor Ducey. "Thank you to all of the education champions, legislative leadership, and especially Representative Doug Coleman and Senator Kate Brophy-McGee for their hard work on getting this through the legislature. Thank you also to leaders in the education and business communities for their advocacy and support. I am proud to sign this bill and take Prop 301 20 more years into the future." 
Read statements of support for Proposition 301 from education leaders, school superintendents, business leaders and legislators here. [1]