Governor Ducey Assesses Flood Damage In Gila Bend
News Release
August 20, 2021
PHOENIX — Governor Doug Ducey today traveled to Gila Bend to tour flood damage from the historic storms that devastated the rural community. 

"My prayers go out to all the Arizonans in Gila Bend, Flagstaff and all other areas of our state being impacted by flash flooding and heavy rain," said Governor Ducey. "We knew early on that there would be challenges that come from this monsoon season, but as I look around me, it's tough to comprehend just how devastating it's been. I want all the residents of Gila Bend to know that we are with you, and we are going to overcome this. We will do everything we can to protect you and help you recover."

The Governor received a briefing from Gene Wikle, Senior Assistant Director of the Arizona Division of Emergency Management, and toured the damage. On the tour, he visited the home of Gila Bend Fire Chief Arelia Henry. Her home was flooded over the weekend, but despite the damage, Chief Henry stayed on duty for search and rescue and recovery operations.

Governor Ducey issued a formal commendation recognizing Chief Henry for her bravery and leadership. Chief Henry and all of Gila Bend's volunteer firefighters went above and beyond the call of duty to ensure the safety of their community.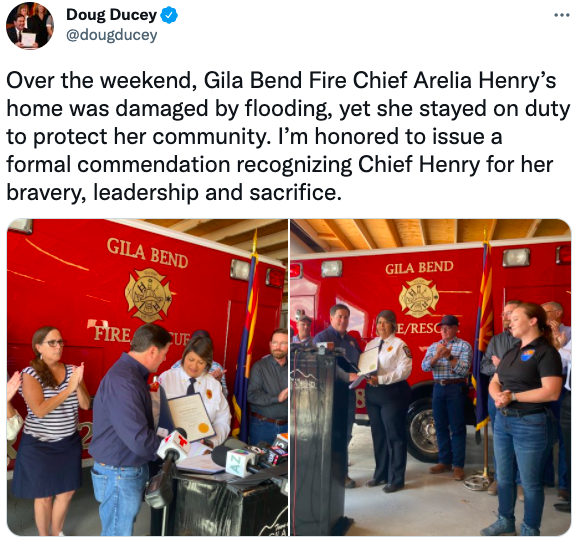 Governor Ducey presented Chief Henry the commendation at a press conference held at the Gila Bend Fire Station. He was joined by Assistant Director Wikle, Maricopa County Department of Emergency Management Director Rob Rowley, Gila Bend Mayor Chris Riggs and other local leaders, legislators, and first responders. 

"This last week has been heartbreaking for this community," said Gila Bend Mayor Chris Riggs. "I have been inspired to see our town come together and rebuild stronger. Thank you, Governor Ducey and all the first responders, who have provided their full support for this cleanup effort."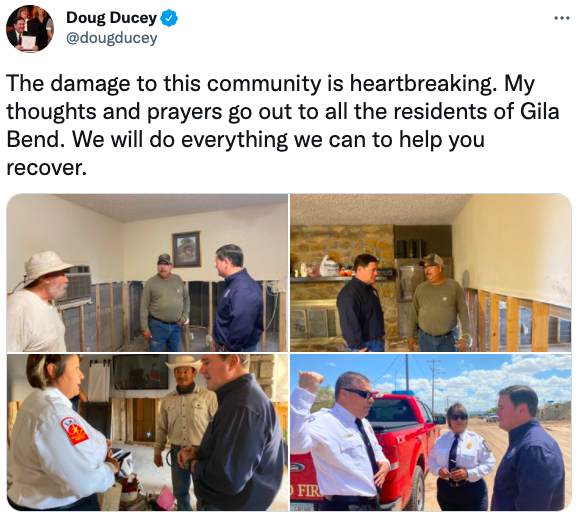 Governor Ducey today announced $5 million to launch the Back to Work Small Business Rehiring and Retention Program with a special focus on helping Arizona small businesses affected by wildfires and flooding. The program will fund up to $10,000 in expenditures for employee hiring/signing bonuses, relocation bonuses for employees that are moving to take an open position, and employee retention bonuses.

On the weekend of August 13, a monsoon storm ravaged Gila Bend, causing historic flooding and leading to power outages and damage to private property, roadways and drainage systems. Tragically, the flooding has resulted in at least two known fatalities. 

Last week, the Governor directed the Department of Emergency and Military Affairs to activate the State Emergency Operations Center in support of field operations. The Governor also issued a Declaration of Emergency, making up to $200,000 available for response and recovery efforts. On August 18, the Maricopa County Board of Supervisors approved $500,000 in funding to support Gila Bend with recovery efforts. 

During this monsoon season, Arizona has seen a record amount of rain that has caused flooding throughout the state. Communities such as Flagstaff and Globe have been hit with severe flooding causing damage to homes and businesses. Arizona remains committed to providing all the necessary assistance for these communities.
###