PRIMER: Arizona Administers 2.5 Million Doses
News Release
March 15, 2021

Today's news that a 77-year-old resident of Surprise is the recipient of the 500,000th dose at State Farm Stadium highlights Arizona's continued efforts to beat COVID-19. 

Arizona today hit another significant milestone: 2.5 million+ COVID-19 vaccine doses administered across the state since early December. Thanks to health care professionals, volunteers, Arizona National Guard members and many more, Arizona has diligently administered vaccinations and continues to expand access to high-risk individuals and underserved communities. 

Arizona's mass vaccination sites have been championed as a national model by President Joe Biden. Researchers at the Belfer Center at Harvard University have given the state an 'A' grade in vaccine response, including categories of vaccines per capita and time to vaccinate those eligible. 

As of March, Arizonans 55 and older along with frontline essential workers are eligible to receive the COVID-19 vaccine. Additional doses have been distributed to vaccination sites, drug stores and pharmacies in urban and rural areas around Arizona.   

More information on vaccination sites and eligibility can be found HERE.

Here are a few ways Arizona is distributing the vaccine to communities and high-risk individuals around the state:

Connecting With Communities In Need 
A recent state pilot program targets high-risk individuals in underserved communities to bring them information, help them sign up for vaccination appointments and take taxicabs provided through the Arizona Department of Health Services (ADHS) to their appointments at state-run sites. 

ADHS and volunteers have begun outreach in minority communities, starting with a tele-townhall in February to hundreds living in ZIP code 85009, an area highly impacted by COVID-19. Of those tuning into the townhall, more than 400 were vaccinated at state-run vaccination sites between March 8 and March 12. 

Governor Doug Ducey, ADHS Director Dr. Cara Christ and community leader AP Powell held a tele-townhall on March 9 to answer questions from individuals in underserved communities across the state. The Governor and Dr. Christ encouraged listeners to get the vaccine and answered more than two dozen questions from an audience of about 10,000.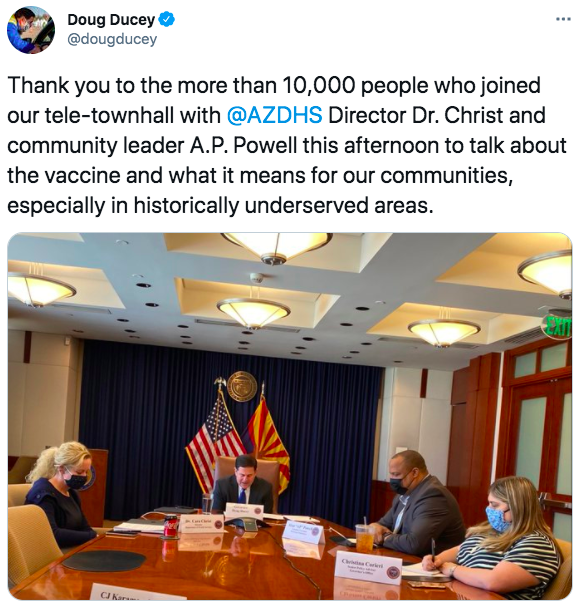 The Governor and Dr. Christ also held a tele-townhall with Representatives Jeff Weninger and César Chávez, and AARP-Arizona State Director Dana Kennedy to discuss with the senior community the benefits of getting the vaccine and to answer their questions. The townhall was held on March 11 and generated 25,000 participants. 
Increasing Access For High-Risk Populations
On February 22, Governor Ducey and AHCCCS, Arizona's state Medicaid agency, announced a free transportation service for Medicaid members to get to and from their COVID-19 vaccination appointments. AHCCCS has partnered with ADHS to train and equip additional staff to assist Medicaid members with scheduling vaccine appointments and coordinating transportation.

The state also partnered with the Phoenix Holocaust Association to help Holocaust survivors living in Arizona get vaccinated, and in some cases helped register survivors' spouses for appointments to provide them with additional protection.
Protecting Teachers And Families
Arizona is working to ensure students, teachers and families get the support they need to return to school safely. Education and child care providers were prioritized in Phase 1B of vaccination rollout, with many schools reporting that staff members have already received their second dose of the vaccine.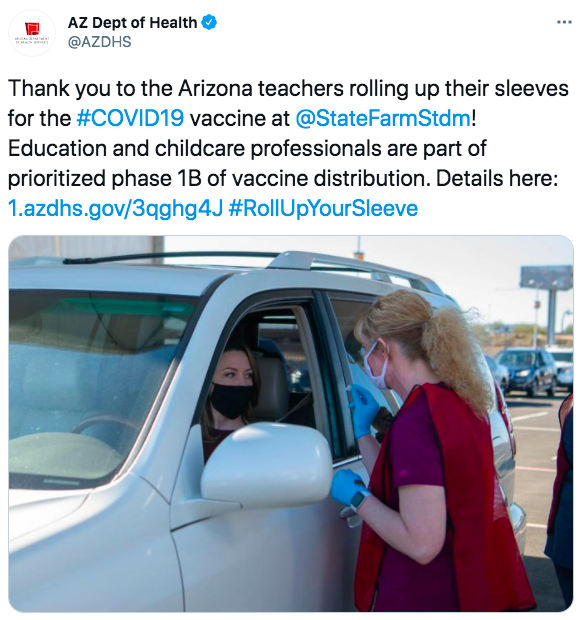 Following discussions with education leaders and in line with the Centers for Disease Control and Prevention (CDC) guidelines, Governor Ducey on March 3 issued an Executive Order directing schools to offer in-person learning starting March 15 or after a school's spring break. A student may continue to participate in virtual learning if their parent or guardian chooses to do so.

Expanding Availability At State-Run Sites
The State of Arizona is currently operating four vaccination sites to ensure vaccines are being distributed to Arizonans as quickly, safely and efficiently as possible. Health care professionals, volunteers and Arizona National Guard Members help run the sites, administer vaccines and ensure efficient operations each day.
Arizona's first state-run vaccination site, which administered its 500,000th vaccine dose today, opened at State Farm Stadium on January 11 and runs 24/7. The Phoenix Municipal Stadium opened February 1 and has administered 99,290 vaccines to date. The first state vaccination site in southern Arizona is located at the University of Arizona and has administered 42,329 vaccines since it opened February 18. The fourth vaccination site at Chandler-Gilbert Community College reopened as a state-run site on March 3. It has administered 28,745 vaccines.
###