Governor Ducey Visits Border
News Release
March 19, 2021
PHOENIX — Governor Doug Ducey today traveled to Douglas, Arizona to get a first-hand view of the security and humanitarian situation at the U.S.-Mexico border. After taking an aerial border tour, the Governor received a briefing and held a press conference and a border security roundtable.

He was accompanied by U.S. Senator Rick Scott of Florida, a member of the Senate Homeland Security and Governmental Affairs Committee; state lawmakers; and community leaders from Cochise County.

"This isn't just a border security problem — it's a humanitarian problem," Governor Ducey said. "Here in Arizona, we're doing our part to keep our border safe and secure."

"But we need more leadership from the federal government to keep our borders safe," he added. "The Biden administration's immigration policy decisions directly impact our state, and we're left to pick up the pieces. Our number one priority is keeping Arizonans safe, and we want to keep these migrants safe too."
The Governor participated in an aerial tour of the border and received a briefing from federal and state officials on border security and the influx of migrants crossing into the state. After the tour, Governor Ducey and Senator Scott held a press conference at the border wall. The Governor then held a border security roundtable with Cochise County Sheriff Mark Dannels, Arizona Department of Public Safety Director Col. Heston Silbert and other officials.

This week, Homeland Security Secretary Alejandro Mayorkas announced our nation is on pace to reach the highest number of apprehensions at the border in the last 20 years. In addition, U.S. Customs and Border Protection currently has the highest number of migrant children in custody in the history of the agency.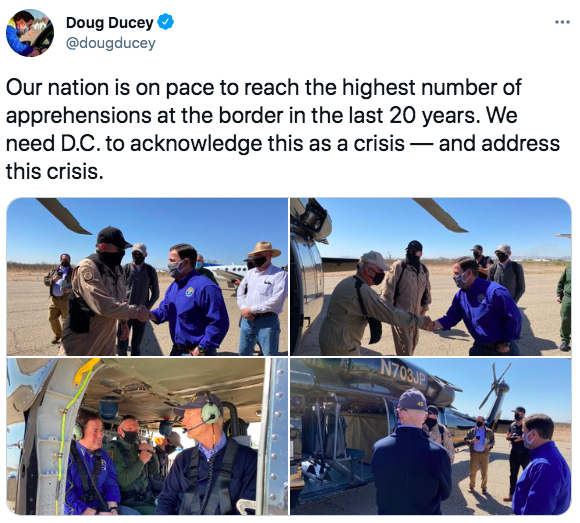 The Governor met this week with Federal Border Officials to discuss the escalating crisis on the border where he raised concern over the dramatic increase in illegal immigration in recent weeks, as well as the strain it's putting on law enforcement and Arizona's border communities. Border Patrol also shared concerns about increases in apprehensions and illegal immigration across the board. 

As the crisis pursues, the Arizona Department of Public Safety (DPS) continues to deter and dismantle illegal activity to keep Arizona safe thanks to the Arizona Border Strike Force, a highly-trained group of state troopers. The Border Strike Force has been helping to disrupt and dismantle transnational organized crime along the border and in Arizona communities, enhancing DPS efforts to protect Arizonans. See the latest data on its operations HERE. 

Additionally, Governor Ducey on February 17 wrote a letter to Secretary Mayorkas outlining concerns he has for the situation at the border.
###