PRIMER: Arizona Investments To Fight COVID-19 And Support Arizonans
News Release
November 27, 2020
In response to the COVID-19 pandemic, Arizona has surged resources to protect public health, stretch and strengthen the social safety net, provide support to Arizonans in need, and stabilize Arizona's budget. These resources have helped people, businesses and institutions weather uncertainty and prioritize public health while blunting the worst impacts of the virus and the resulting economic downturn. 

KEY POINTS:
Governor Ducey stated from the beginning: "We only get to spend these dollars once." Arizona took a very responsible and cautious approach with the dollars, and still has money in the bank. Even with Congress refusing to act and do its job, Arizona has additional resources to assist through this second wave of COVID-19. The recent announcement of $25 million for our hospitals speaks to the need for additional resources through the end of the year.

While other state budgets are hemorrhaging and lawmakers are forced to make significant and dramatic cuts to K-12 education, health care and other priorities, Arizona is in a stable position, ending the last fiscal year with a $372 million cash carry forward. By utilizing CARES dollars to support public health and public safety, Arizona has avoided having to make any budget reductions to critical programs, particularly K-12 education and the social safety net. In fact, Arizona has used some of its CARES dollars to ADD to K-12 education. 
Below is an overview of how Arizona has strategically deployed resources to respond to the pandemic. 

CARES Act 
On March 27, President Trump signed the Coronavirus Aid, Relief and Economic Security (CARES) Act, which provided emergency relief funding to states and local governments, schools, federal programs and more through the Coronavirus Relief Fund (CRF). The CARES Act provided $2.8 billion to Arizona, with $1.856 billion being allocated to the Governor's Office for further distribution.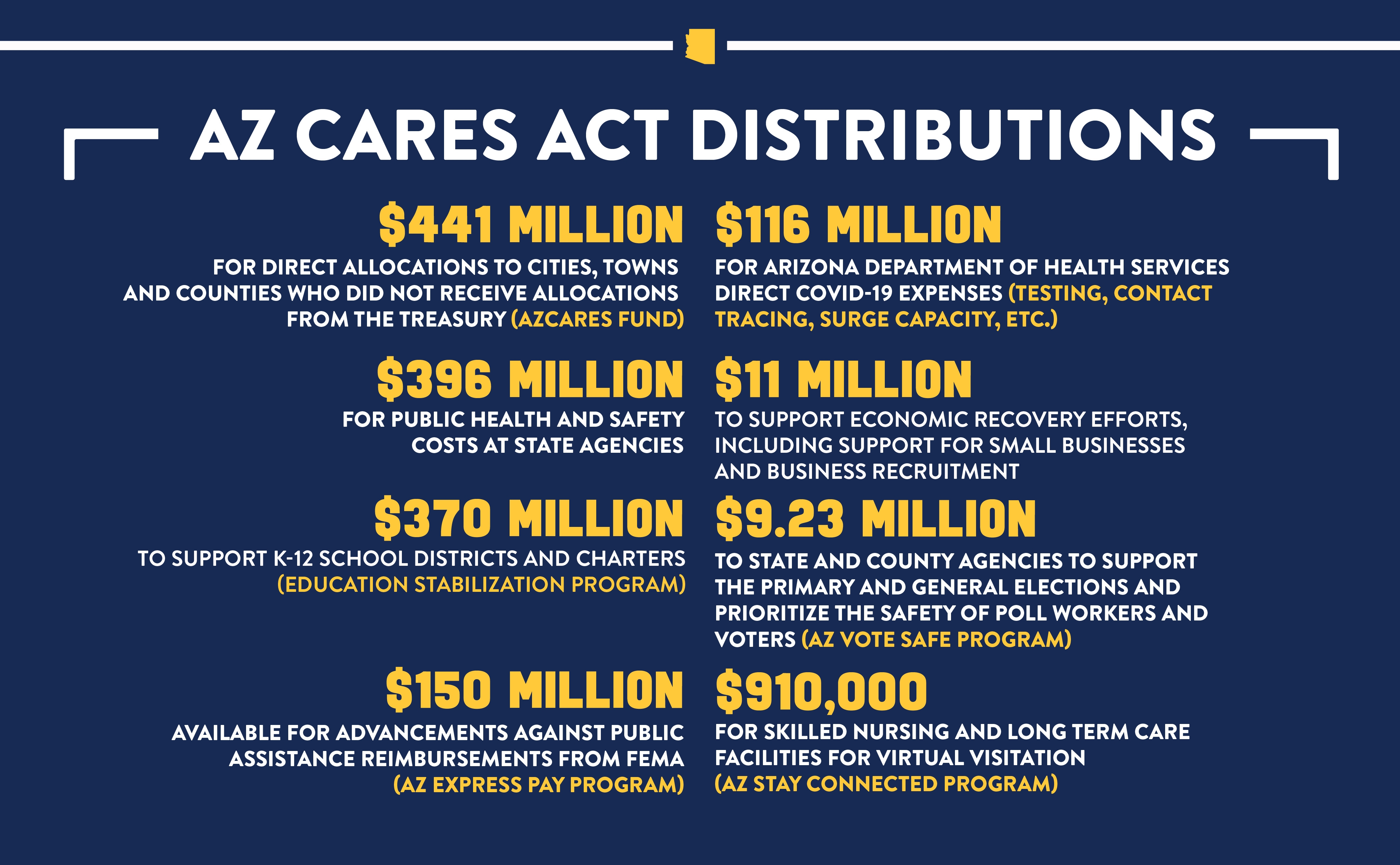 Of Arizona CRF dollars, nearly $1.5 billion, or 80%, has been committed to programs and local governments to address immediate needs related to the pandemic, including expanding testing, contact tracing and hospital capacity, supporting local governments, stabilizing K-12 school budgets and helping them meet the extra costs of in-person and virtual learning. 

A breakdown of Governor's Office CRF allocations is below: 
$441 million for direct allocations to cities, towns and counties that did not receive allocations from the Treasury (AZCares Fund);

$396 million for public health and safety costs at state agencies;

$370 million to support K-12 school districts and charters (Education Stabilization Program);

$150 million available for advancements against Public Assistance reimbursements from FEMA (AZ Express Pay Program);

$116 million for Arizona Department of Health Services direct COVID-19 expenses (testing, contact tracing, surge capacity, etc.); 

$11 million to support economic recovery efforts, including support for small businesses and business recruitment;

$9.23 million to State and County agencies to support the primary and general elections and prioritize the safety of poll workers and voters (AZ Vote Safe Program); and

$910,000 for skilled nursing and long term care facilities for virtual visitation (AZ Stay Connected Program).
Crisis Contingency And Safety Net Fund 
Arizona's bipartisan budget agreement, signed by Governor Ducey on March 28, added $50 million from the Rainy Day Fund for the Crisis Contingency and Safety Net Fund. The fund is dedicated to Arizona's COVID-19 response, and, to date, has been used to provide assistance to renters and landlords, support small businesses, expand operations of local food banks, meet the needs of the homeless community and more.

An overview of allocations from the Crisis Contingency and Safety Net Fund is below: 
$10 million for rent and mortgage relief aid to small businesses administered by Local First Arizona; 

$10 million for the Rental Property Owners Preservation Fund, which provides funding to rental property owners experiencing rental income losses; 

$8.15 million for homeless services providers and emergency housing to mitigate the spread of COVID-19 in homeless populations; 

$5.45 million for aid to health care providers, including targeted emergency funding to ensure access to health and prevent hospital closures in rural Arizona; 

$4.97 million for aid to nonprofits to help struggling businesses and continue serving Arizona's at-risk populations. Organizations receiving assistance include Goodwill of Central and Northern Arizona, the Arizona Commission on the Arts, the Arizona Small Business Association, Heal the Hero and Special Olympics Arizona; and

$3.375 million for food assistance, which provides targeted funding to community food banks and initiatives addressing hunger throughout the state. 
AZ Coronavirus Relief Fund 
As the public health and economic effects of the international pandemic began being realized in Arizona, many citizens and businesses wanted to know how they could help. To leverage the generosity and support of the public and private sector, Governor Ducey established the AZ Coronavirus Relief Fund as part of the Arizona Together initiative. The fund, which has received more than $9.77 million in private donations to date, is overseen by an independent committee of Arizona business leaders and private sector leaders, which evaluates requests for support and makes decisions on where funds will be directed. More information and how to donate can be found HERE. 

Funding from the AZ Coronavirus Relief Fund has focused on meeting the following needs: 
Funding of Personal Protective Equipment (PPE) for frontline medical personnel;

Supporting non-profit organizations that assist the most vulnerable Arizonans through food banks, homeless shelters, domestic violence facilities, and other services; and

Providing low-income students with technology needed for virtual learning.
In total, nearly $8.48 million have been distributed from the AZ Coronavirus Relief Fund to organizations supporting Arizonans, including: 
$4.957 million for PPE donated by the Ben & Catherine Ivy Foundation;

$1 million to support Arizonans facing homelessness;

$645,000 to support families in need and expand programs that promote independent living;

$527,000 to ensure Arizonans have access to free meals;

$480,000 for education continuity and child care;

$350,000 for domestic violence prevention;

$320,000 to support seniors, homebound and other vulnerable populations;

$100,000 for Arizonans with special needs; and

$100,000 for children in out-of-home care.
Supporting K-12 Schools and Students
Arizona has been unique among other states in prioritizing relief dollars to support Arizona schools and students. As many states consider and enact cuts to K-12 amid budget shortfalls, Arizona made new education investments this year, including completing the third installment of the 20x2020 teacher pay raises, and has invested federal dollars to stabilize school budgets to offset costs associated with in-person and virtual learning. 

This year, more than $716 million in new federal funding has been directed to Arizona K-12 education, including: 
$370 million in Enrollment Stabilization Grant Program funding from the Governor's Office; 

$277.4 million in Elementary and Secondary School Emergency Relief (ESSER), funding awarded directly to the Arizona Department of Education, which will distribute the dollars to local K-12 schools; and

$69.2 million in Governor's Emergency Education Relief (GEER) funding. 
The GEER Fund, part of the CARES Act, is dedicated to Arizona students and schools most in need. Investments from the Governor's Office include: 
$40 million to expand broadband in rural communities and bridge the digital divide;

$19.5 million in additional support for high-need schools;

$6 million in the Arizona Teachers Academy;

$1.5 million in microgrants to support innovative programs to continue educating Arizona students;

$1 million for vehicles for the Arizona School For The Deaf And Blind;

$700,000 for principal leadership development through Beat The Odds Leadership Academy; and

$500,000 to expand the number of our nation's eager and talented college students to work with schools serving Arizona's most vulnerable student populations.
New investments for K-12 schools in the Fiscal Year 2021 budget agreement include: 
$175 million for the third installment of the 20x2020 teacher pay raise plan;

$90 million for school building renewal, in addition to $28 million FY2020 supplemental funding, for a total of more than $118 million in new dollars for school repairs and maintenance; and

$67 million in accelerated flexible funding for schools, which can be used on things such as technology, textbooks, building renewal, and personnel.
More information about additional dollars going to schools can be found HERE. 

Prioritizing Public Health
Arizona's top priority throughout the pandemic has been to protect public health and ensure access to care for those who need it. The Arizona Department of Health Services (ADHS) has partnered with local health departments, health care providers, testing laboratories, universities, assisted living facilities and more to increase testing options and capacity, boost contact tracing, expand hospital capacity and fund additional hospital staff, purchase and distribute PPE and more. 

Public health investments in response to the pandemic include: 
$90 million to purchase PPE;

$40 million to expand testing access and capacity;

$35 million for staffing support at hospitals;

$25 million for additional hospital staffing;

$8 million for university testing development;

$3.21 million to support childcare facilities;

$2.15 million for contact tracing; and

$1.8 million for the Arizona Surge Line. 
Unemployment Benefits
With unprecedented demand on social services, Arizona has responded quickly to expand assistance programs and ensure Arizonans have access to the social safety net. 

Since March, the Department of Economic Services has brought on more than 1,500 individuals to help Arizonans access benefits. Likewise, the Department has leveraged technology to cut down on fraud, including reducing UI claims from 600,000 to 20,000 through smart identity verification tools.

Since the start of the pandemic, the Department has paid out more than $12.2 billion in unemployment benefits to more than 2 million Arizonans.
###