Going Above And Beyond "The Arizona Way"
News Release
May 7, 2020

Businesses and organizations throughout Arizona continue to step up to support those impacted by COVID-19. From giving blood to ensuring families have fresh food, donating goods for child care establishments and much more, Arizonans have gone above and beyond to help out.
Here are just a few ways Arizonans are helping others:
Santa Cruz County leadership, Chamberlain Distributing, Santa Cruz Cold Storage, the Fresh Produce Associations of the Americas, the Nogales Community Foodbank and the Arizona National Guard came together to get fresh produce to tribal communities as part of the Tribal Nations Produce Distribution. As a result of their generosity and teamwork, fresh produce was provided to more than 6,000 families in the Navajo, Hopi and White Mountain Apache Tribes.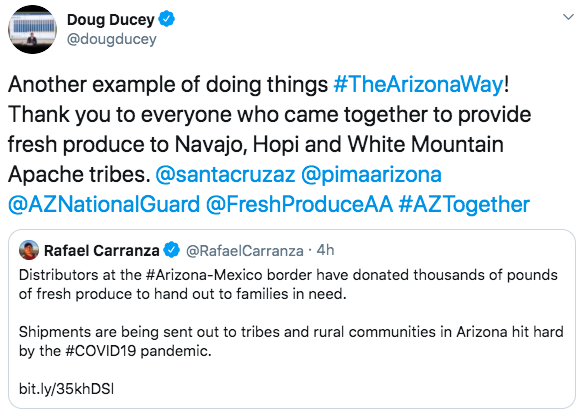 Delta Dental of Arizona is donating 36,000 toothbrushes to homeless Arizonans. It is also donating $500,000 to federally approved medical centers throughout Arizona.
Phoenix Suns Charities and Blue Cross Blue Shield of Arizona donated $80,000 for COVID-19 antibody test for first responders. The Phoenix Law Enforcement Association and the United Phoenix Firefighters Association provided the tests to officers and firefighters at three locations in the Phoenix area.
The Barry & Peggy Goldwater Foundation partnered with Blok Industries to donate and deliver approximately 20,000 Hazmat Suits to the Navajo and Hopi Tribes. The Goldwater Foundation team delivered the suits to the Navajo Division of Public Safety in Window Rock and the Hopi Veterans Memorial Center.
St. Mary's Food Bank and the Arizona Coyotes set up a mobile food pantry outside of Gila River Arena to donate food boxes to nearly 500 families across the valley.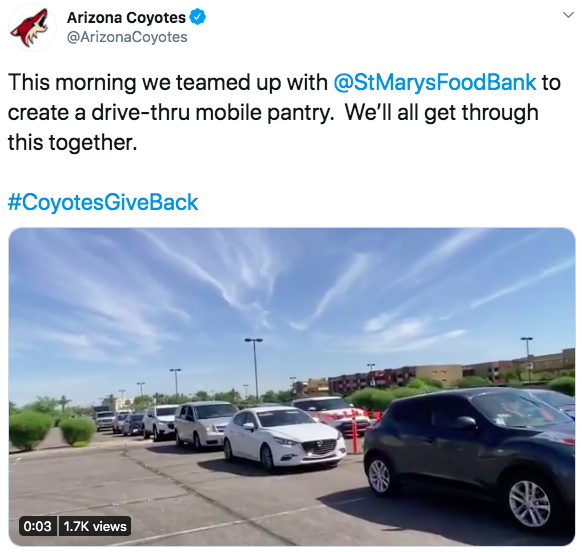 Luke Air Force Base last week held a 15-ship flyover formation to honor frontline workers and medical professionals across the state. The flyover took place over the greater Phoenix area.
Desert Financial donated $500,000 to nonprofits across the valley to support efforts to distribute essential resources to those in need. The nonprofits include United Food Bank, St. Mary's Food Bank, Midwest and Desert Mission Food Banks and Valley of the Sun United Way.
The Crazy Chile Farm donated corn, bean, squash, sorghum and chile seeds to the Havasupai Nation. The farm made the donation after it was brought to their attention that farmers and gardeners of the Havasupai Nation were having trouble purchasing seeds because of COVID-19.

Those interested in donating can learn more about ways to contribute at ArizonaTogether.org. More stories on businesses and organizations helping frontline workers, vulnerable populations and businesses in need of support can be found at ArizonaTogether.org/thearizonaway.
###