BRIEF: Spring Training Season
News Release
March 7, 2019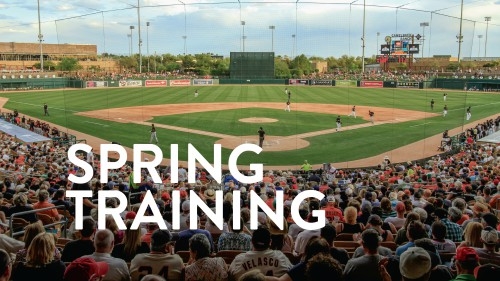 Baseball is back! Every spring, fifteen Major League Baseball clubs make their way to Arizona for spring training as part of the Cactus League.
The Cactus League began in 1947 with just two major league teams: the New York Giants and the Cleveland Indians. Now, with fifteen big league clubs and ten ballparks, the greater metropolitan Phoenix area has the largest concentration of professional baseball facilities in the country — all within an hour's drive.
Spring training means big business for Arizona. The economic impact of spring training rivals other mega sporting events hosted in Arizona like Super Bowls or NCAA March Madness matchups, but benefits our state's economy every year.
In 2018:
Nearly 1.8 million fans turned out to enjoy a spring training game in Arizona, with 60 percent of those fans hailing from out of state.
The median Cactus League visitor attended three games, stayed in Arizona four nights and spent over $400 a day.
The Cactus League had an estimated economic impact of over $644 million — up 11 percent from 2015.
Spring training generated $31 million in state and local tax revenue and $373 million in gross domestic profit.
Spring training season supported over 6,400 jobs.
The Cactus League includes the Arizona Diamondbacks, Chicago Cubs, Chicago White Sox, Cincinnati Reds, Cleveland Indians, Colorado Rockies, Kansas City Royals, Los Angeles Angels, Los Angeles Dodgers, Milwaukee Brewers, Oakland Athletics, San Diego Padres, San Francisco Giants, Seattle Mariners and Texas Rangers.
###