Benchmark Electronics Brings 500 Jobs To Tempe
News Release
February 8, 2019
TEMPE — Governor Doug Ducey today attended the grand opening of Benchmark Electronics' new corporate headquarters in Tempe. The global engineering and electronics manufacturing company will bring 500 new jobs to the state with the relocation of its headquarters from Texas to Arizona.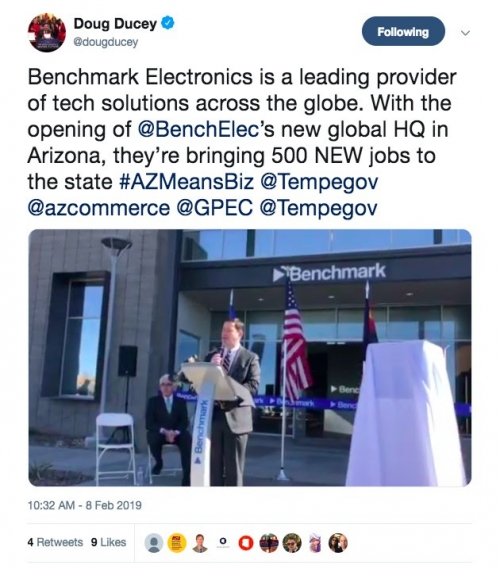 "Benchmark Electronics is leading the way on manufacturing and providing technology solutions for customers around the world," said Governor Ducey at the grand opening. "With today's grand opening, we're proud that their Global Headquarters is no longer in Texas—but right here in Tempe—and they're bringing 500 new jobs with them. We're proud to have you right here in Arizona."
At the grand opening, Governor Ducey joined Benchmark President and CEO Paul Tafuano and Vice President of Marketing and Strategic Solutions Teresa Snyder-Lamberger for a ribbon cutting ceremony and time capsule presentation.
Learn more about Benchmark HERE.
###