Arizona Commemorates Grand Canyon National Park's 100th Birthday With New Road Signs
News Release
February 27, 2019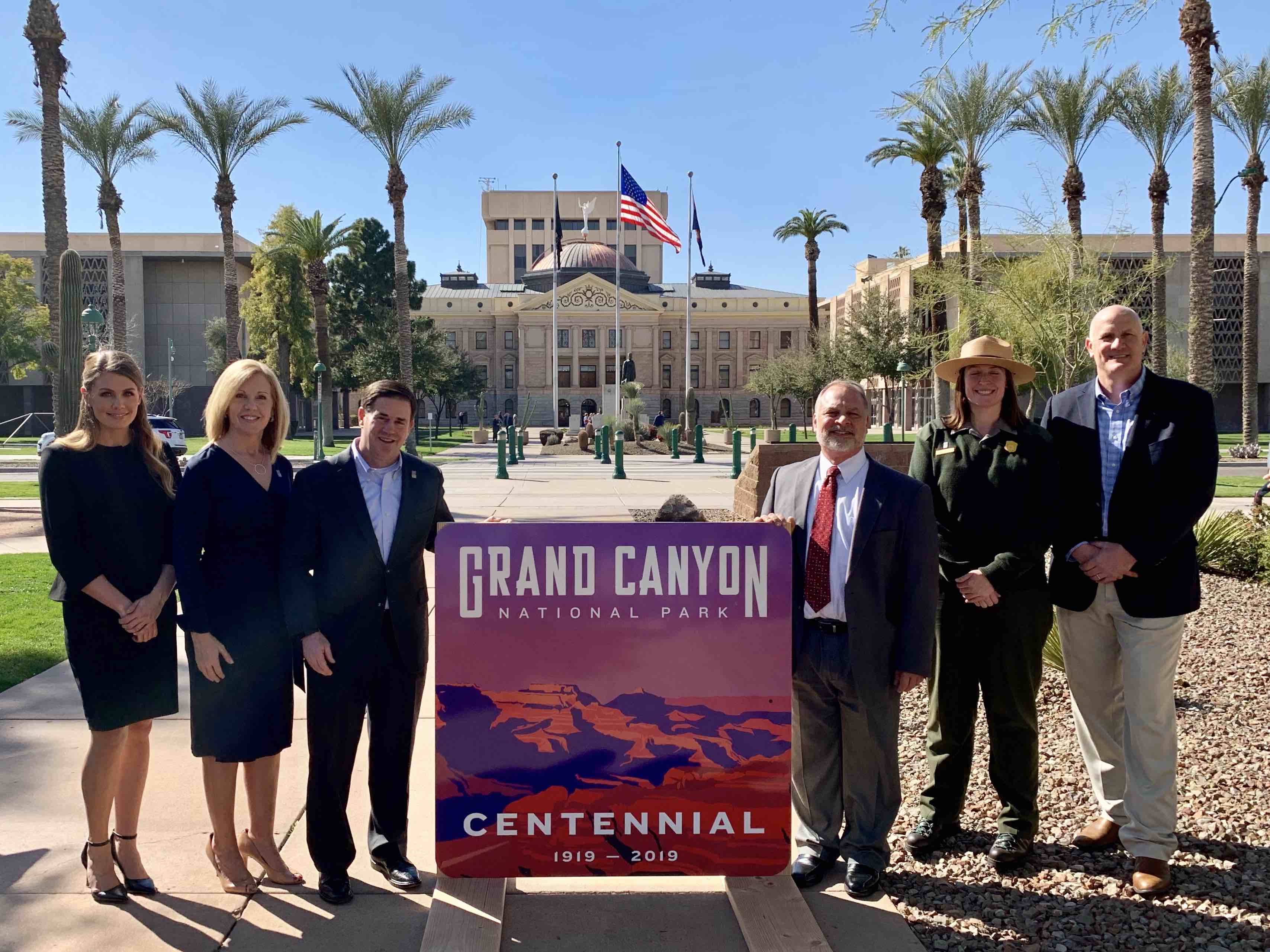 From the Arizona Office of Tourism:
PHOENIX — Arizona Gov. Doug Ducey today unveiled a new road sign commemorating the centennial of the Grand Canyon National Park.
The colorful road sign—which depicts the Grand Canyon in hues of purple and orange—will be erected along freeways across the state, replacing 40 existing signs that were installed in 2012 to commemorate the 100-year anniversary of Arizona gaining statehood.
Gov. Ducey revealed the new Grand Canyon Centennial road sign at Wesley Bolin Memorial Plaza, where one of the signs was planted in view of the Arizona State Capitol. "The Grand Canyon is more than an Arizona treasure. It's a national treasure that brings visitors from around the world," said Governor Ducey. "On the 100th anniversary of the Grand Canyon, we come together to admire this natural wonder and commit to continue preserving its magnificence for generations to come. These new signs proudly celebrate Arizona as the Grand Canyon State. 
The Grand Canyon became a national park on Feb. 26, 1919. In its first year as part of the National Park System, approximately 40,000 people visited. Since then, more than 200 million people have come to the park—including a record 6.25 million in 2017.
In January 2018, during a partial shutdown of the federal government, Gov. Ducey took emergency steps to keep Grand Canyon National Park open, saying, "the Grand Canyon will not close on our watch." He later issued an executive order, the Grand Canyon Protection Plan, which established a protocol to keep the Grand Canyon open during future federal-funding lapses, and he put that plan into effect in December when the federal government shut down again.
"The Grand Canyon is essential to Arizona's identity and our international travel brand," said Debbie Johnson, Director of the Arizona Office of Tourism. "For a visitor, seeing the Grand Canyon for the first time can be an unforgettable, once-in-a lifetime experience. For an Arizonan, it means something special that we hail from the Grand Canyon State—a beautiful, multi-hued, culture-rich place that is known the world over."
Gov. Ducey was joined at today's unveiling by representatives from Grand Canyon National Park, the Arizona Office of Tourism, the Arizona Department of Transportation, Arizona State Parks & Trails, and Arizona Public Service (APS). The Office of Tourism through existing resources, and with support from APS, funded the creation of the signs.
"As the state's longest-serving electricity provider and the one that serves the Grand Canyon, APS is honored to be part of this special effort to commemorate a century of this true natural wonder as a national park," said APS Chairman and CEO Don Brandt.