PRIMER: Investing In Arizona's Public Safety Officers
News Release
January 24, 2019

During his State of the State address, Governor Ducey announced that the budget would include targeted investments in things that matter most — such as our men and women in uniform who put their lives on the line. Governor Ducey's fiscally conservative, balanced budget follows through on that promise — including pay raises for employees across multiple agencies who carry out critical public safety functions.  
In his 2019 State of the State, Governor Ducey said:
"...law enforcement, first responders, correctional officers, our National Guard, and military personnel. We salute you. We are proud of you. And we thank you. We know that to truly secure Arizona's future, we can't do it without you. And we pledge to continue to support and invest in you and your families."
In total, the budget provides raises for roughly 40 percent of the state workforce. The proposal has already received support from the Arizona State Troopers Association, the Arizona Police Association, the Arizona Fraternal Order of Police and more.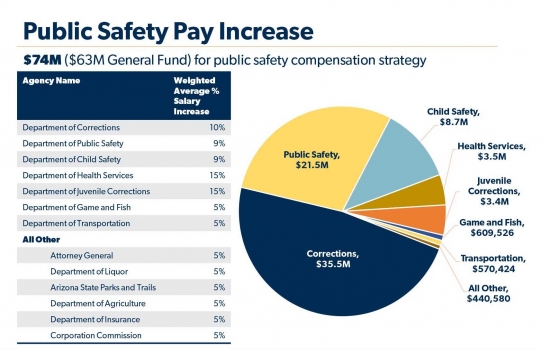 Highlights of the public safety pay raise package include:
$35.5 million for pay raises ranging from 5 percent to 15 percent in the Department of Corrections, with over 94 percent of the increase dedicated to security personnel.
$3.4 million for pay raises at the Department of Juvenile Corrections.
$21.5 million for a 10 percent increase in Department of Public Safety (DPS) Trooper salaries, increasing starting Trooper pay from $46,988 to $51,687, and a 5 percent increase in DPS civilian salaries.
$9 million for a 9 percent increase for caseworkers at the Department of Child Safety.
$3.5 million to reduce Arizona State Hospital staff turnover and vacancy rates.
For more information, view the fiscal year 2020 budget HERE.
###