Gov. Ducey Releases Balanced, Fiscally Conservative Budget
News Release
January 18, 2019
Budget Increases Rainy Day Fund To $1 Billion, While Maintaining A Structural Balance of $244 Million
PHOENIX — Governor Doug Ducey today released his balanced budget for fiscal year 2020. The fiscally conservative budget calls for increasing Arizona's Rainy Day Fund to $1 billion, a record high, while protecting and fulfilling teacher pay raises and investing $637 million new dollars into K-12 public schools. This budget avoids mistakes of the past by depositing half of the surplus into the Rainy Day Fund and a majority of those investments are one-time investments.
The budget makes additional, targeted investments in the areas that matter most including new dollars to expand career and technical education programs, address Arizona's teacher shortage, keep our kids and schools safe, ensure a strong safety net, provide well-earned raises to law enforcement personnel, improve critical infrastructure and secure Arizona's water future.
"Over the last four years, Arizona has gone from a $1 billion deficit to a $1 billion surplus, but we aren't going on a spending spree. We are going to live within our means and prepare for the future, and this budget does that," said Governor Ducey. "Where we can make targeted investments to help our most vulnerable and expand access to opportunity, we will, while ensuring those investments are sustainable in the long-term. I look forward to working with all legislators to pass this budget and put Arizona on even stronger financial footing now and into the future."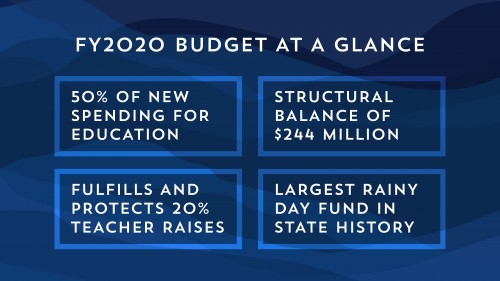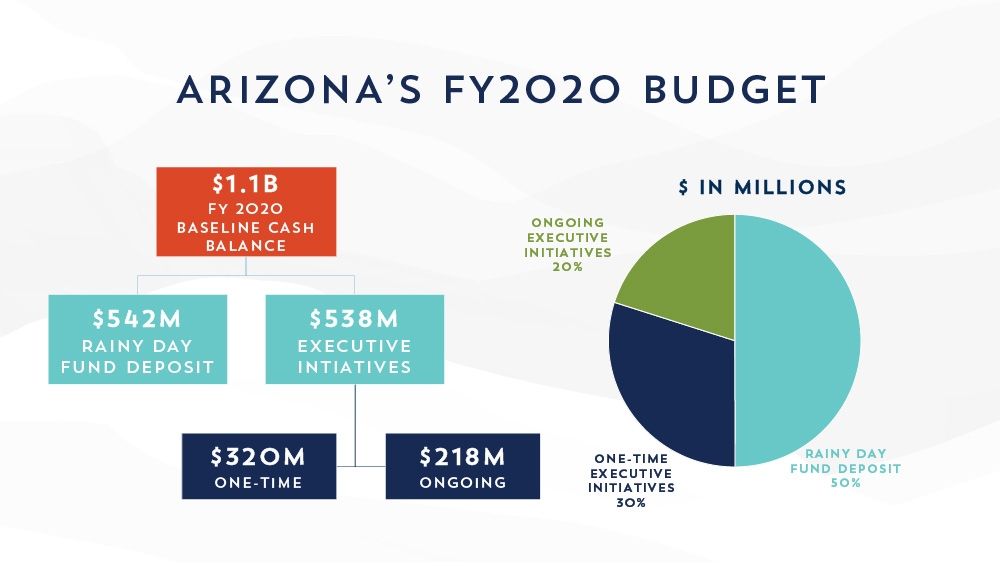 Highlights of the budget plan include:
$30 million for conservation efforts dedicated to protecting the water level in Lake Mead and an additional $5 million for infrastructure projects for agriculture.

$164.7 million to fulfill and protect 20% teacher pay raises by 2020.

$21 million to expand the Arizona Teachers Academy at the Arizona State University, University of Arizona and Northern Arizona University to address Arizona's teacher shortage and create a pipeline of talent and the next generation of Arizona teachers.

$10 million to support Career and Technical Education and expand Arizona's competitive workforce and prepare students for the jobs of tomorrow.

$9.3 million to provide funding for 89 new school resource officers for Arizona schools.

$12 million over the next two years to fund approximately 224 new school counselors and social workers.

$20 million for Pima Community College aviation center expansion.

$5.8 million for Maricopa County Community College District health care expansion.

Increasing Arizona's Rainy Day Fund to a record-breaking $1 billion with a $542 million deposit and raising the statutory cap on contributions to the fund.

$21.5 million for a 10% increase in Department of Public Safety Trooper salaries.

$35.5 million for a 5% to 15% increase in Department of Correction salaries.

$9 million for a 9% increase for caseworker salaries at the Department of Child Safety.

$3.0 million to permanently index the value of the dependent exemption to inflation and increase the value of the exemption - reducing taxes on Arizona families.

$3 million to expand broadband services in underserved rural areas across the state.

$130 million over the next two years to expand and improve safety on I-17 -- a critical commerce corridor.

$700,000 to improve infrastructure and attract new imports at the Mariposa Port of Entry Cold Inspection Facility.
The FY2020 budget maintains a structural balance with a surplus of $244 million.
Arizona continues to pay off debt and lower interest costs, allowing the state to reclaim ownership free and clear of buildings like the State Capitol. Other buildings that the state will regain ownership over include: the Executive Tower; the School of the Deaf and Blind; the Fair Grounds; the Library & Archives; and the Supreme Court. The refinancing is projected to save $109 million in General Fund dollars in reduced debt payments over the next 10 years.
The complete budget can be viewed HERE.
###