Governor Ducey Strengthens Arizona-Sonora Relationship
News Release
November 30, 2018
The Signings In Hermosillo Kick Off A Three-Day Trip To Mexico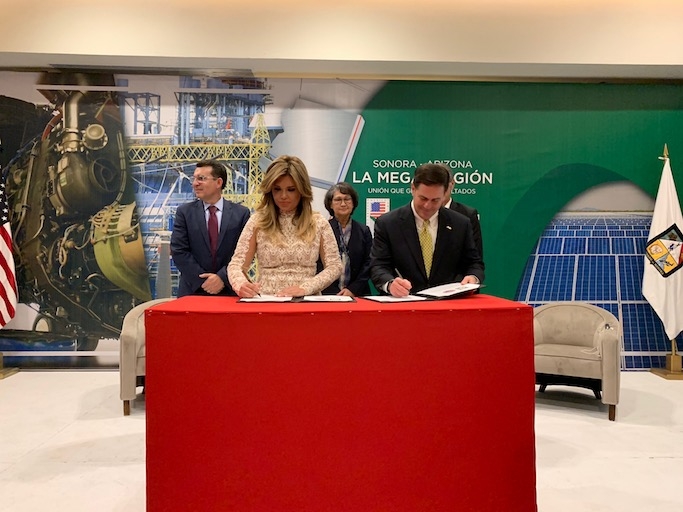 HERMOSILLO - Governor Doug Ducey today co-signed three Memoranda of Understanding with Sonora Governor Claudia Pavlovich at the Comisión Sonora-Arizona/Arizona-Mexico Commission 2018 Annual Meeting Plenary Session in Hermosillo, Sonora. The visit to Hermosillo is Governor Ducey's first stop on his three-day trip to Mexico.
The signed agreements aim to support economic development in the region, coordinate emergency services between the two states and expand current youth education programs.The signed agreements include:
Coordinated Emergency Services: Establishes coordinated emergency ambulance transfers between Arizona and Sonora across the U.S.-Mexico Border. Read the full text of the agreement HERE.


Commercial Safety Corridor: Establishes a collaborative economic development initiative that creates a Commercial Safety Logistics Corridor along MX15, between Nogales and Guaymas, supporting secure and efficient supply chains moving through the Mariposa Port of Entry. Read the full text of the agreement HERE.


Chief Science Officers Program: Expands the Chief Science Officers (CSO) Program between Arizona and Sonora, a collaborative initiative led by the Arizona Technology Council and Sonora Secretary of Education and Culture, promoting youth participation in science, technology, engineering and math (STEM) education. Read the full text of the agreement HERE.

"Our region is safer and more prosperous because of collaboration between Arizona and Sonora, our deep history of collaboration has resulted in valuable cross-border initiatives that contribute to the quality of life for people in both states," said Governor Ducey. "I am proud to come together with Governor Pavlovich to continue strengthening the Arizona-Mexico connection through these joint agreements that support cross-border commerce, increase safety across our region and expand STEM education programs."
Governor Ducey will travel to Mexico City following the meeting to attend the inauguration of Mexico's President-Elect Andrés Manuel López Obrador. In addition to attending the Presidential Inauguration, Governor Ducey will meet with leaders from the new federal administration and business community.
This is the governor's first trade mission since the November election. Throughout his first term, Governor Ducey championed strong cross-border collaboration -- promoting growth in the economy, jobs, and increased border security.

###