Governor Ducey, Arizona Cardinals Visit Second Chance Center Job Fair
News Release
October 24, 2018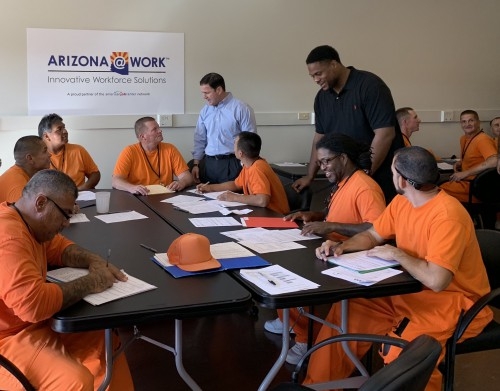 First-Hand Look At Arizona's Efforts To Provide A Real Second Chance
PHOENIX — Governor Doug Ducey, joined by Arizona Cardinals President Michael Bidwill and Arizona Cardinals players Antoine Bethea and Corey Peters, attended a job fair yesterday at the Lewis State Prison Complex's Eagle Point Second Chance Center.
The visit comes after Governor Ducey met with President Bidwill and players Peters, Bethea and Boston in September of 2018 to discuss criminal justice reform and Arizona's efforts to reduce the rate of recidivism. In addition to attending the job fair, Governor Ducey, President Bidwill and the Cardinals players heard first-hand from current inmates, ex-offenders and employers about their experience with the Second Chance Centers.  
In March of 2017, the Governor's Office announced the launch of three Second Chance Centers, administered through a partnership between the Arizona Department of Corrections (ADC), the Arizona Department of Economic Security (DES) and the Arizona Health Care Cost Containment System. Located at the Lewis and Perryville State Prison Complexes in Maricopa County and the Tucson State Prison Complex in Pima County, the three centers equip and prepare inmates with the life and career skills needed to successfully reenter society — before they leave prison.
Through the program, inmates nearing release have the chance to attend job fairs, participate in skill trainings and build relationships with potential employers. Since the program began, 1,692 inmates have graduated from a Second Chance Center — resulting in 808 job opportunities upon leaving prison. Currently, 337 inmates are participating in the program, and ninety-five employers are partnering with the centers in offering jobs to released inmates.
The following employers participated in yesterday's job fair at Eagle Point:
Hickman's Family Farms
Clayton Homes Buckeye
AAA Landscape
Tpac
Arizona Glass & Door Connection
Jacksons Carwash
District Photo
Camelback Moving and Storage
American West Pallets
Erickson Framing.
Due to the program's success, Governor Ducey's fiscal year 2019 budget provides nearly $450,000 to expand the programs at Lewis and Perryville prisons, allowing an additional 975 inmates to participate in Second Chance Center programming.
Arizona has made progress in efforts to reduce recidivism. The state is experiencing one of the largest drops in the number of inmates in Arizona prisons since 1974 and has seen a 10 percent drop in released inmates going back to prison on technical violations.
"Arizona is committed to equipping those who have paid their debt to society with the tools needed to succeed after leaving prison," said Governor Ducey. "I am grateful to the Arizona Cardinals for their interest in Arizona's efforts to reduce the rate of recidivism and the prison population. There is more to be done, and we will continue working on meaningful solutions to offer more citizens a real second chance."
At the conclusion of the visit, President Bidwill announced the Cardinals would donate grass for the Eagle Point Second Chance Center's football field in addition to providing game tickets to employers for program graduates. He also expressed a commitment to encouraging other employers to partner with the Second Chance Centers in offering job placements to released inmates.
View a full list of employers partnering with the Second Chance Centers HERE.
More information on the Second Chance Centers is available HERE. 

###