Governor Ducey Joins Walgreens For Expansion Of Safe Medication Disposal Kiosks
News Release
August 16, 2018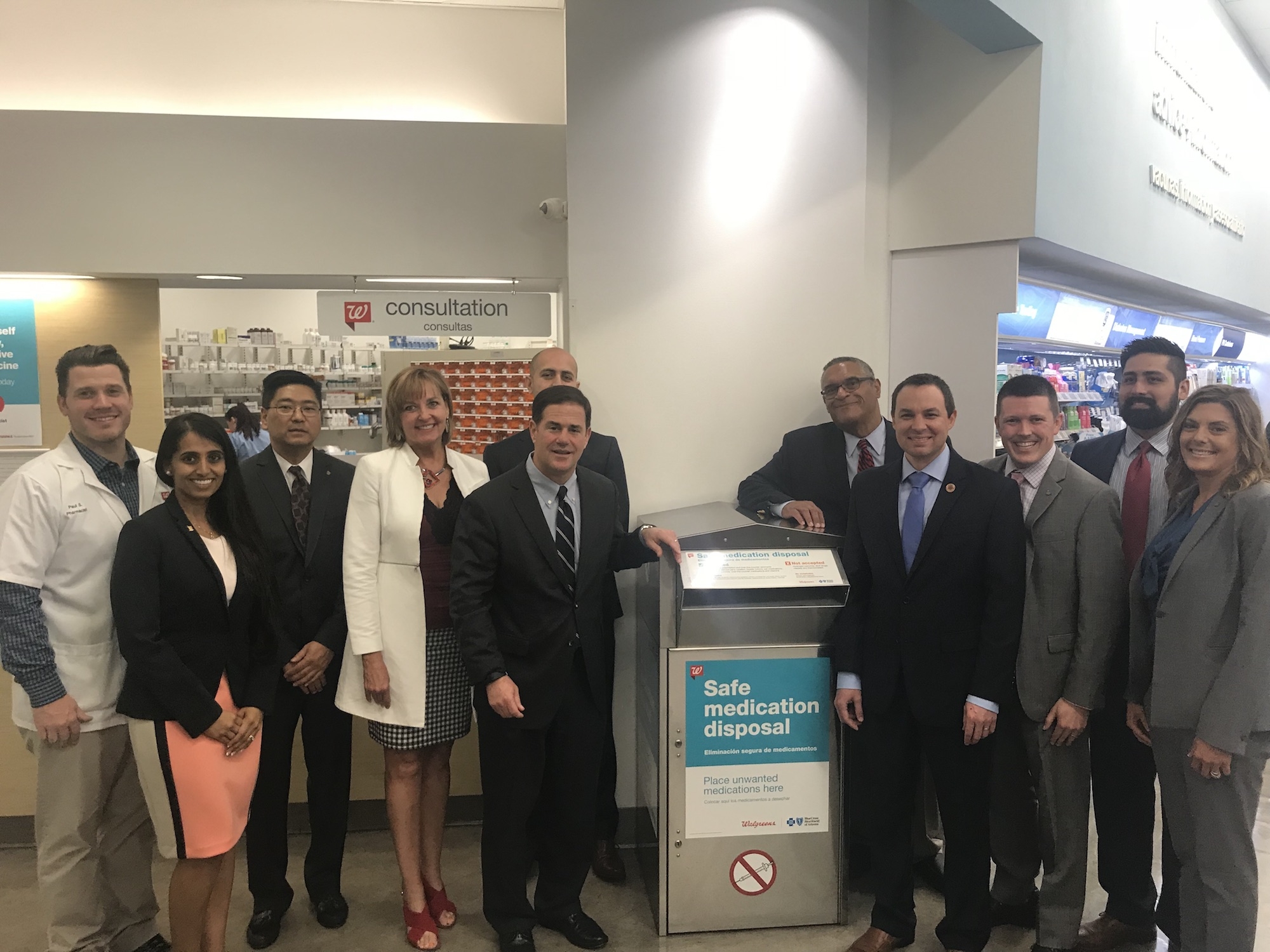 Kiosks Across Arizona Helping Curb Prescription Drug Abuse And Addiction
PHOENIX — Governor Doug Ducey today joined Walgreens to highlight the expansion of safe medication disposal kiosks across Arizona, aiding the state's fight against prescription drug and opioid abuse. Walgreens developed safe medication disposal kiosks to provide a convenient and secure way to dispose of unwanted over-the-counter medications, prescriptions or controlled substances — including opioids.
 Through a partnership with Walgreens, Governor Ducey brought the disposal kiosks to 18 Walgreens locations in Arizona in 2016. Two years later, Arizona now has 35 kiosks around the state. With 24-hour accessibility, Arizonans can discard old medications knowing those drugs will not have unintended consequences.
"Every pill disposed of at a Walgreens is one less that can be misused, abused, stolen or potentially lead to addiction or loss of life," said Governor Ducey. "It takes everyone working together to make a difference. Thank you to Walgreens for being a proactive community partner in the war against this epidemic and thank you to the healthcare providers, pharmaceutical companies, law enforcement, addiction specialists, and community partners for joining together to make Arizona safer." 
Walgreens is also playing a critical role in reversing opioid overdoses by dispensing the opioid antidote drug, naloxone, without a prescription at all 244 of their Arizona locations, making it more readily available for at-risk individuals. Governor Ducey signed legislation in 2016 allowing pharmacists to dispense the potentially life-saving drug without a prescription.
To safely dispose of unwanted, unused or expired prescriptions or over-the-counter medications, simply drop them off at a Walgreens safe medication disposal kiosk. Find the location nearest you HERE.
###