Governor Ducey Updates Autonomous Vehicle Executive Order
News Release
March 1, 2018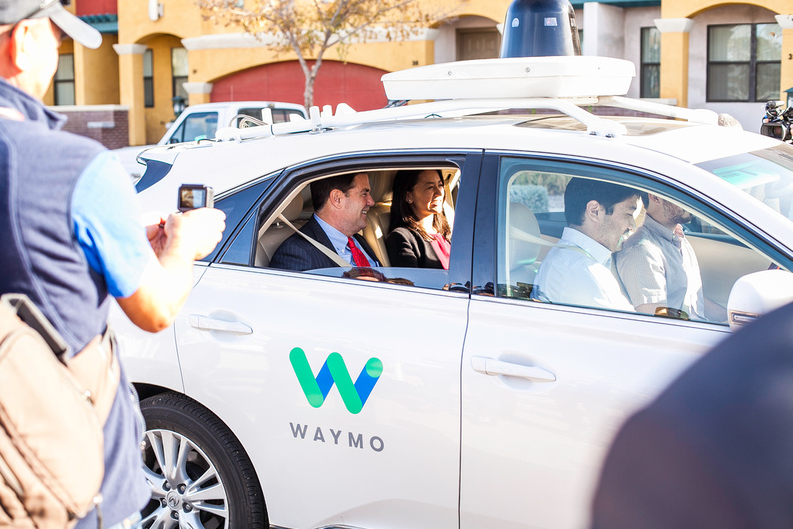 Supporting Innovation And Public Safety
PHOENIX– Arizona has become the home for testing of self-driving vehicles, and Governor Ducey today updated his 2015 executive order to advance our state's position as a national leader for the development on this technology while continuing to protect public safety.
In 2015, Governor Ducey signed an executive order that outlined the process for self-driving vehicle testing in the state of Arizona. The executive order established safety guidelines for the testing and operation of self-driving vehicles, but also instructed the state to eliminate unnecessary regulations and hurdles to the new technology.  As a result, Arizona is recognized as a leader in welcoming new technology and innovations. Since the enactment of the executive order, Arizona has become home to testing for many of the technology and automotive companies that are leading the innovation into the new frontier, including General Motors, Waymo, Uber, and Intel. The New York Times even said Arizona is where "self-driving cars go to learn."
With advancements in technology and testing, today's order:
Includes updates to keep pace with emerging technology, including advancements toward fully autonomous vehicles.
Requires all automated driving systems to be in compliance with all federal and state safety standards, including:

The vehicle must achieve a reasonably safe state, such as bringing the vehicle to a complete stop, upon experiencing a failure of the vehicle's automated driving system.
Complying with all Arizona traffic and safety laws.
Meeting all applicable certificate, title registration, and licensing and insurance requirements.
Instructs the Departments of Public Safety to work with other relevant law enforcement agencies to develop protocols on how first responders shall interact with a fully autonomous vehicle in emergency and traffic enforcement situations.
In addition, the vehicle must meet all applicable certificate, title registration, and licensing and insurance requirements.
"As technology advances, our policies and priorities must adapt to remain competitive in today's economy," said Governor Ducey. "This executive order embraces new technologies by creating an environment that supports autonomous vehicle innovation and maintains a focus on public safety."
View a PDF of the executive order here.