Governor Ducey Increases Wildfire Prevention Funding
News Release
February 7, 2018
Record Dry Winter Means Arizona Needs To Prepare For A Difficult Fire Season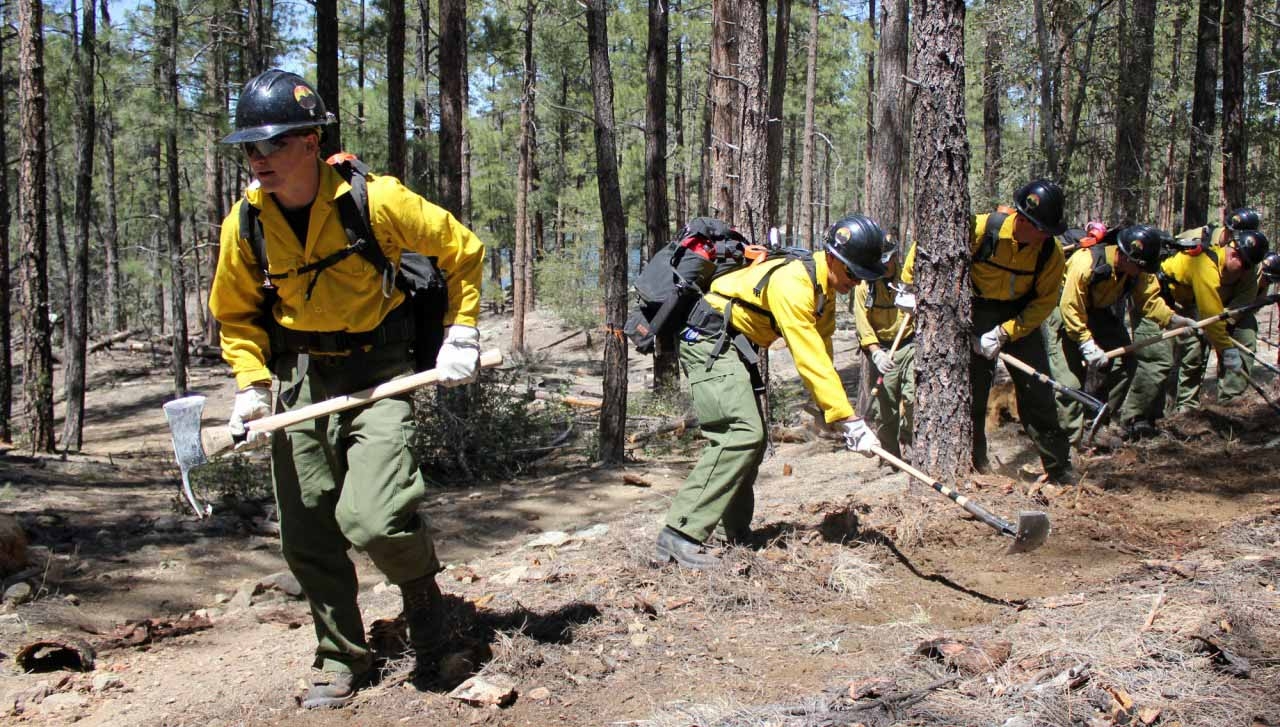 PHOENIX — In response to record dry winter conditions in Arizona, Governor Doug Ducey today announced that he is boosting his funding ask to the Legislature for fire safety and prevention efforts. The governor is seeking to not only increase FY 2019 funding levels for ongoing costs, but also has identified additional federal supplemental funding to ensure the state is prepared for a difficult fire season.
Additionally, the Department of Forestry and Fire Management will be working actively with state, local, and federal partners to fully spend available dollars in the Hazardous Vegetation Removal Program in FY 2019.
With only 0.44 inches of rain, as of January 26, this winter ranked as the fourth driest start to the water year for Phoenix (Arizona Republic, Feb. 3). The average is 2.85 inches.
To help mitigate these effects, Governor Ducey seeks to secure funding to proactively restore forests on federal and state lands, continue supporting the Post-Release Crew's prevention efforts, strengthen public-private partnerships to aid forest management, and encourage all efforts to make Arizona an attractive place for forest industries to do business.
"Arizona is all too familiar with the devastation that wildfire season can bring," said Governor Ducey. "After experiencing an unusually dry winter, we need to commit to giving the Department of Forestry and Fire Management the tools they need to prevent and battle these catastrophic fires. Protecting lives, pets and property starts with proper preparation, and by working with state, local and federal partners, our goal is to minimize the impact of these fires to the best of our ability."
"Work is already underway to prepare for the fire searson," said State Forester Jeff Whitney. "These resources are critical to that effort, especially given these dry conditions. We appreciate Governor Ducey and the Legislature's continued support for fire management, and take this responsibility very seriously."
Background:
Securing Funding to Restore Forests on Federal Land
Good Neighbor Authority (GNA) Partnership: $640,000 to support 10 FTE positions.
GNA allows the USDA Forest Service (USFS) to partner with states to perform watershed restoration and fuels and forest management services on federal land. The USFS, because of ongoing collaborative efforts with the Department of Forestry and Fire Management (DFFM), has identified funding beginning in the current fiscal year to support DFFM in GNA efforts to prepare and mark timber for sale to meet the demands of industry investors.
A Second Chance Initiative to Enhance the State's Fire Prevention and Suppression Efforts
In the FY 2018 budget, Governor Ducey provided $1,000,000 for the Post-Release Fire Crew, plus $465,000 in start-up costs; his FY 2019 budget plan continues funding for this crew.
All of the 21 positions for the Post-Release Crew, dubbed as the "Phoenix Crew," have been filled. DFFM expects the crew will be certified as a Type II response team this month. The crew has been working on targeted fuels treatments to protect communities at risk. These are projects designed to prevent wildland fire from entering the community. In the short time that the Phoenix Crew has been operational, they have treated around 40 acres. As the year progresses, they anticipate treating up to 6,000 acres, depending on weather conditions.
Public-Private Partnership to Reduce State Regulations on Forest Materials Removal
Governor Ducey will support industry partnerships by reducing burdensome regulations that hinder their progress. 
The Executive has made significant changes to regulatory requirements to allow the forest product industry to remove more material, thereby lowering the risk of fire.
Increasing FY 2019 funding levels to $2 million for Hazardous Vegetation Removal
Warm winter increases the need to add fire prevention resources as wildfire risk rises in 2018 and 2019.
Since this appropriation was created in FY 2015, DFFM has been unable to expend the full $1,350,000 allocated. The FY 2019 Executive Budget sought to align the appropriation with prior actual expenditures. Following the completion of the Executive Budget, the Arizona Department of Water Resources (ADWR) informed the Executive of record low levels of precipitation during the winter months (unlikely to rebound the remaining weeks of the season). The dry winter has increased the risk of severe wildfires in 2018 and 2019. Consequently, the Governor's Office plans to modify its Executive Budget to restore $337,500 for Hazardous Vegetation Removal and increase total funding to $2 million  in FY 2019. The Governor's Office will work with DFFM to help the agency fully utilize all available resources in the program as part of a larger federal, state, and local strategy to mitigate the heightened wildfire risk.
2016 Bob's/Fry Ecosystem Management Project
Improving management tools and techniques to become more effective and efficient, while sharing information with federal partners.
The Bob's/Fry project encompassed approximately 1,200 acres of State Trust land south of Flagstaff.  The location was a primary fire vector for wildland fire threatening the city. DFFM collaborated with the Arizona State Land Department (ASLD), US Forest Service (USFS), US Fish & Wildlife Service (USFWS), Arizona Game & Fish (AZGF) and The Nature Conservancy (TNC) to develop forest restoration prescriptions for the lands. DFFM used the project to test innovations in digital tablet technologies to lay out and administer forest thinning projects. This technology proved effective in reducing costs over traditional methods currently in use. DFFM was able to go from concept to implementation of this project within two weeks and share the operational and technological learning with the USFS and other partners. Approximately 1,600 truck loads of material were removed to reduce fire risk. 
###