Governor Ducey Requests VA Prioritize Arizona Veteran Homes
News Release
November 10, 2017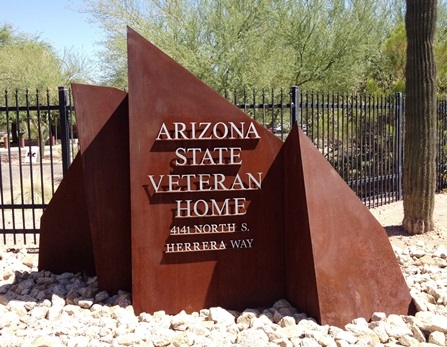 PHOENIX – Highlighting the need for additional capacity to provide long-term care for Arizona veterans, especially in rural parts of the state, Governor Doug Ducey today asked the U.S. Department of Veterans Affairs (VA) to prioritize the construction of new Arizona State Veteran Homes. In a letter to Veterans Affairs Secretary David Shulkin, Governor Ducey referenced two planned facilities in rural areas for which state funds have been appropriated, but that await matching dollars from the VA.
"Since 2015, we have secured matching state appropriations of $19.2 million for the construction of two additional State Veterans Homes," Governor Ducey writes in the letter. "One is planned to be built in Yuma, which would serve 60 veterans in the Southwest region; and the other is planned to be built in Flagstaff, which would serve 60 veterans in the Northcentral region. Both locations would serve rural veteran populations that are located more than 100 miles from an existing Veteran Home. And both are awaiting matching federal dollars."
Arizona State Veteran Homes provide skilled nursing and rehabilitative care for aging and chronically ill veterans and their spouses. 
Currently, the Arizona Department of Veterans Services serves 320 veterans at existing Veteran Homes, but that need is expected to grow. By 2020, the state estimates a shortage of more than 1,200 beds. 
"As you know, the longer it takes to break ground on these projects, the more expensive they become," Governor Ducey continues. "The sooner we can secure these dollars, the sooner we can ensure our veterans are repaid for the service provided to our great nation. "
Read the full letter HERE. 
###