Capitol Goes Blue for Down Syndrome Research
News Release
March 21, 2017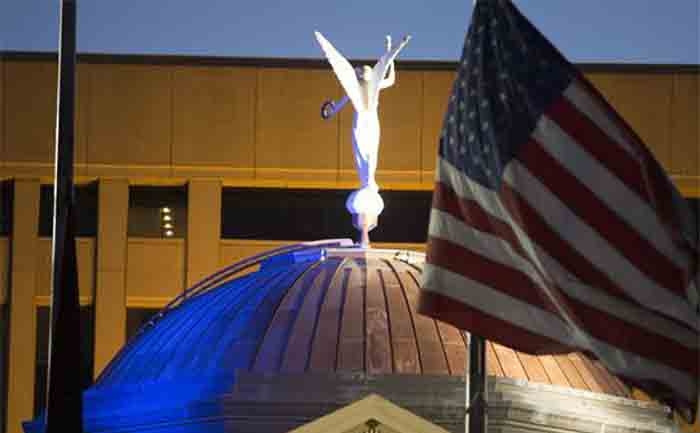 PHOENIX — Governor Doug Ducey and First Lady Angela Ducey today are joining a nationwide effort to raise awareness of Down syndrome cognitive research. As part of the "Light the Way" campaign, the governor has directed the Capitol dome to be illuminated blue the evening of March 21.
"I'm honored to join First Spouses from across the country to raise awareness of Down syndrome research," said First Lady Angela Ducey. "Advances in research have already helped so many with improved cognitive and motor functioning. Bringing attention to these efforts will highlight the work still to be done and ways we can help every person in Arizona lead a healthy, happy life."
Arizona scientists are at the forefront of Down syndrome research. The University of Arizona's Memory Development and Disorders Lab, led by Dr. Jamie Edgin, is spearheading the development of memory assessment tools for clinical trials and has conducted research on how sleep affects the cognitive development of children with Down syndrome.
At Arizona State University, Dr. Shannon Ringenbach is also conducting research on the effects of exercise on the motor, cognitive, and emotional functions of adults and adolescents with Down syndrome.
And Dr. Marwan Sabbah of the Barrow Neurological Institute in Phoenix is leading clinical trials aimed at reducing the prevalence of Alzheimer's disease in people with Down syndrome.