Arizona's Highway Safety Message Contest Begins
News Release
February 6, 2017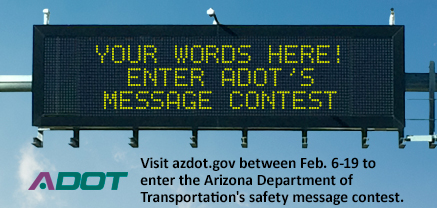 PHOENIX – Governor Doug Ducey and the Arizona Department of Transportation are giving Arizonans the opportunity to put their own safety message on overhead highway signs.
Beginning today, serious and fun safety messages can be submitted at azdot.gov/signcontest. Entries will be accepted until February 19, 2017. 
"These safety messages are a great way to get people talking about safe driving habits and making the roads safer for all of us," said Governor Ducey. "I'm looking forward to seeing the clever messages Arizonans create."
The signs can accommodate messages that are three lines, at no more than 18 characters per line. Be imaginative and original – your message can make a difference.
After the entry deadline passes, submissions will be reviewed and 15 will be selected for the public to vote on in March. The winning message will appear on overhead signs for two days in April.