Arizona Ideals Made Prop 123 A Reality
News Release
January 9, 2017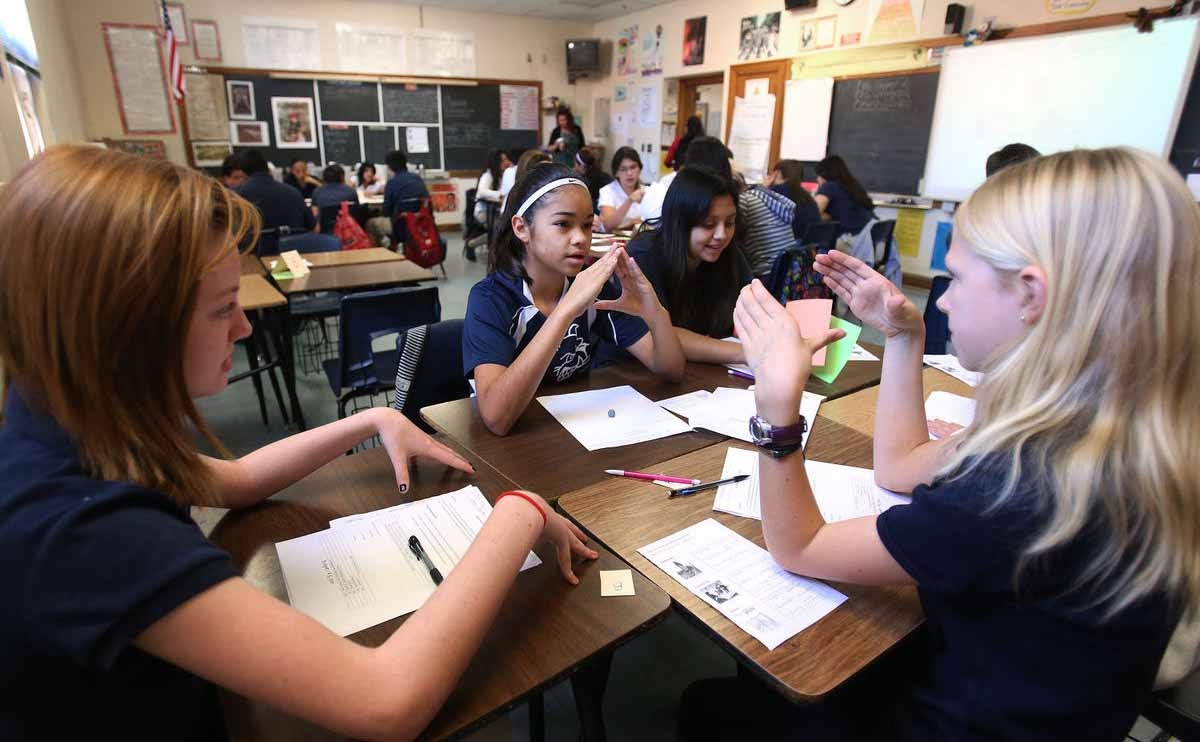 PHOENIX — Seconds ago in his 2017 State of the State address, Governor Ducey highlighted "the biggest issue of them all" and how educators, elected officials, and community members came together to invest in Arizona's children:
"We've achieved so much these last two years. And on the really big issues—and, in fact, on the biggest issue of them all—it wasn't because we had Republican ideas or Democrat ideas. It's because we had Arizona ideals."
Prop 123—approved by voters in May 2016—continues to be a major victory for teachers, students, and schools in our state, and it shows the potential for what 2017 can bring if Arizonans are willing to once again unite around an issue as important as education.
Here's how Prop 123 is impacting Arizona schools --
Prop 123 Made Major Investments In Education Without Raising Taxes
Arizona Voters Approved Prop 123 In May 2016. "Ahead by nearly 16,800 votes and with ever-widening lead, it now appears Proposition 123 has been approved. . . . Gov. Doug Ducey who put together the deal that went to voters, used that margin to declare victory." (Howard Fischer, "Ducey Declares Victory On Prop 123 After Vote Margin Widens," Arizona Capitol Times, 05/19/16)
Prop 123 Is Adding $3.5 Billion Into Our State's Education System Over The Next Ten Years Without Raising Taxes. "During the 2015 1st Special Session, the Legislature passed and the Governor signed a historic plan to resolve pending litigation by infusing into Arizona's K-12 public education system an additional $3.5 billion over ten years, without raising taxes. The plan is contingent on voter approval of Proposition 123 in a May 2016 special election." ("The Executive Budget," Office Of The Arizona Governor, January 2016)
The Joint Legislative Budget Committee Calculated That, Even Under Prop 123, The State Land Trust Will Still Grow By More Than $1 Billion Over The Next 10 Years. "The value of the State Land Trust K-12 Permanent Fund balance is $4.8 billion. Under the proposition, it is projected to be $6.2 billion by 2025. In the absence of the proposition, the projected balance would be $9.0 billion by 2025." ("Ballot Proposition 123: Fiscal Impact Summary," Joint Legislative Budget Committee, Accessed 01/09/17)
The Money Is Already Being Used To Boost Teacher Pay
Nearly 85 Percent Of Arizona Teachers Who Responded To A Cronkite News Questionnaire Said They Wanted The Money From Prop 123 To Be Used For Teacher Salaries. "Some Arizona teachers want Proposition 123 money to be used to increase teacher pay, but the state's two major teacher associations disagree over how the money should be spent. . . . Nearly 85 percent of Arizona teachers who responded to a Cronkite News questionnaire said Prop 123 money should go toward teacher salaries." (Socorro Carrillo, "Arizona Teacher Survey: Use Prop 123 To Raise Salaries," Cronkite News, 05/23/16)
Soon After, That's Exactly What Started To Happen:
Arizona Capitol Times: "Most School Districts Planning To Use Prop. 123 Money For Pay Raises." (Gary Grado, "Most School Districts Planning To Use Prop. 123 Money For Pay Raises," Arizona Capitol Times, 07/08/16)

Scottsdale Independent: Scottsdale Unified School District "Directs Prop. 123 Dollars Toward Teachers." ("SUSD Directs Prop. 123 Dollars Toward Teachers," Scottsdale Independent, 06/29/16)

Arizona Daily Sun: "Most Of This Increase Will Be Used To Give Raises To [Flagstaff Unified School] District Staff . . ." (Corina Vanek, "FUSD Approves Budget With Prop. 123 Funds," Arizona Daily Star, 06/16/16)

Coolidge Examiner: "Prop. 123 Brings Raises To CUSD." (Robby Gal, "Prop. 123 Brings Raises To CUSD," Coolidge Examiner, 06/15/16)

Glendale Star: "Most Prop 123 Funds Going To Salaries." (Carolyn Dryer, "Most Prop 123 Funds Going To Salaries," Glendale Star, 07/07/16)

Nogales International: "NUSD Board Approves Budget Plan, Employee Raises." (Kendal Blust, "NUSD Board Approves Budget Plan, Employee Raises," Nogales International, 06/24/16)

Sierra Vista Herald: "Bisbee District Teachers, Staff To Get Raises Thanks To Prop 123." (Christine Steele, "Bisbee District Teachers, Staff To Get Raises Thanks To Prop 123," Sierra Vista Herald, 07/13/16)

Tucson News Now: "Sunnyside School District Hiking Teacher Salaries Nearly 8.5 Percent." (Barbara Grijalva, "Sunnyside School District Hiking Teacher Salaries Nearly 8.5 Percent," Tucson News Now, 07/20/16)
Arizona Republic: "Arizona's Public Schools, Its Teachers And Students Were The Big Winners" Of Prop 123 Passing. "Arizona's public schools, its teachers and students were the big winners. Despite all the efforts of opponents to paint the Prop. 123 payout as hollow, our schools are getting a $3.5 billion boost over the next 10 years. Best of all, they will almost instantly see a large increase in funding—some $224 million in June and $454 million over the next 13 months." (Editorial Board, "Our View: Prop. 123's Winners And Losers," Arizona Republic, 05/23/16)