Governor Doug Ducey Announces First Arizona Supreme Court Appointment
News Release
January 6, 2016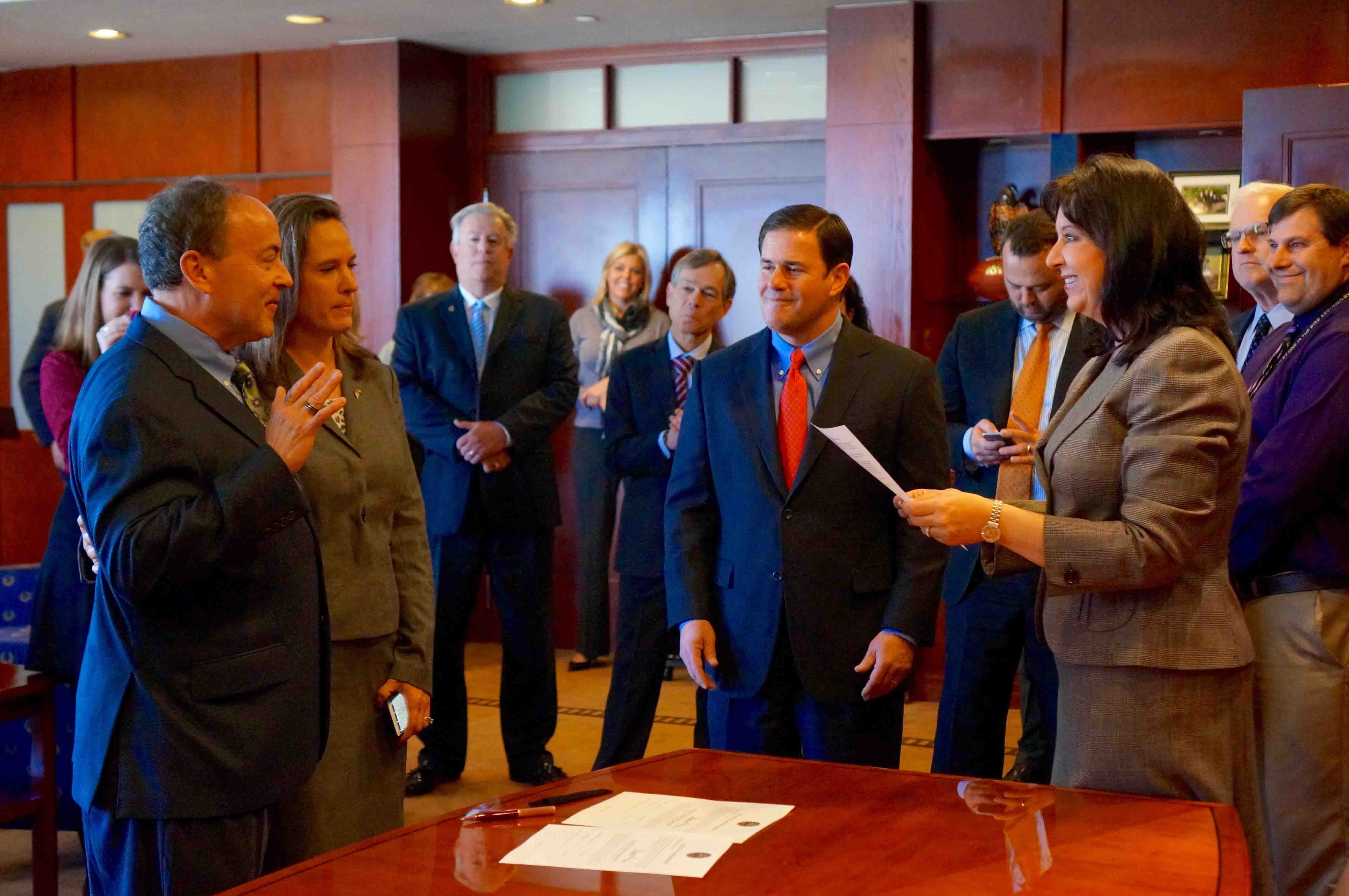 PHOENIX – Governor Doug Ducey today announced the appointment of Phoenix attorney Clint Bolick, an independent, to the Supreme Court of Arizona.
This is Governor Ducey's first appointment to the Supreme Court of Arizona.
Mr. Bolick specializes in United States and Arizona constitutional law, and also handles cases involving state and federal regulatory law, business and property regulation, health care, education, public pensions, family law and election law.
Mr. Bolick has served as vice president for litigation at the Goldwater Institute since 2007. Previously, he worked as president and general counsel of the Alliance for School Choice and as vice president and director of litigation for the Institute for Justice.  Mr. Bolick also worked as an attorney for the Landmark Legal Foundation, the United States Department of Justice, Civil Rights Division, the United States Equal Employment Opportunity Commission and the Mountain States Legal Foundation.
Mr. Bolick's distinguished legal career has been devoted to advancing economic liberty, expanding educational choice, promoting freedom of speech and expression, and the fulfillment of the American Dream for individuals and small businesses.
"Clint is nationally renowned and respected as a constitutional law scholar and as a champion of liberty," said Governor Ducey. "He brings extensive experience and expertise, an unwavering regard for the rule of law and a firm commitment to the state and citizens of Arizona. I'm confident Clint will serve impartially and honorably in this important role."
"I am deeply honored by Governor Ducey's appointment from a stellar group of nominees to the Arizona Supreme Court," said Clint Bolick. "I cherish Arizona, our Constitution, and the precious freedoms it protects. I look forward to serving all of our citizens with integrity, fairness, compassion, and a devotion to justice."
During the selection process, Governor Ducey and the Commission on Appellate Court Appointments received numerous letters, emails, and phone calls from Arizonans and national figures supporting Mr. Bolick's nomination to the Supreme Court.
According to Melissa Penniman, director of curriculum and instruction in the Alhambra School District, "The school district in which I work is a high poverty, urban school district.  A year and a half ago, I reached out to Clint multiple times to ask assistance and advice regarding issues affecting our school district.  He listened to all sides of the issue and quickly understood the heart of the issue.  Clint was happy to oblige and provided an impartial perspective and reasonable course of action to take.  He demonstrated concern and compassion for our students, and advocacy for public education as a whole."
George F. Will, national news columnist and public affairs commentator, wrote: "As the prime mover in landmark litigation, [Mr. Bolick] has repeatedly won from courts victories that have firmly established the constitutionality of programs that empower parents to make the choices directing the education of their children in public or private schools." 
G. Marcus Cole, Professor of Law at Stanford University, wrote: "I think that many Americans, including myself, view Arizona as a bastion of freedom in our country, and an example of how a state can promote the general welfare by respecting and protecting the freedom of its citizens.  But liberty is a fragile condition, under assault at all times from those with an interest in restricting it.  If my own liberty were under assault, the very first person I would seek to defend it would be Clint Bolick.  The people of Arizona could not have a better defender of their precious rights and liberties than Clint."
Mr. Bolick graduated from the University of California at Davis School of Law and from Drew University with a Bachelor of Arts in Political Science and History.
Clint Bolick's appointment to the Arizona Supreme Court was made to fill the vacancy created by the retirement of the Honorable Rebecca White Berch.
Download a photo of Clint Bolick, here.