2016 Highlights: Governor Ducey Signs Jacob's Law
December 8, 2016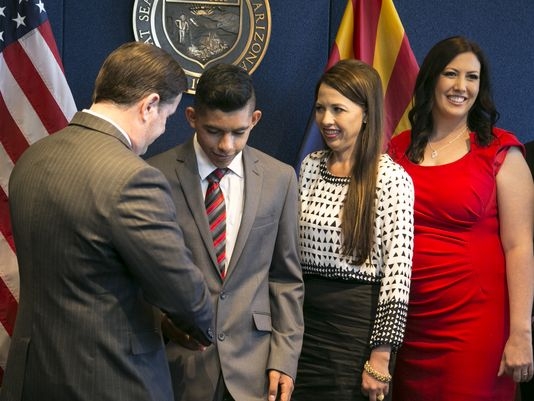 photograph of Governor Ducey and Jacob Woodruff via AZCentral
In March 2016, Governor Ducey signed legislation to give Arizona foster families easier access to quality and timely behavioral health care.
"Foster children and families face enough stresses and challenges as it is—getting urgent and adequate behavioral health treatment should not be one of them," Governor Ducey said in March. "This legislation ensures that kids like Jacob will no longer be ignored."
The legislation—which passed the state legislature with unanimous support at the urging of three mothers—came to be known as "Jacob's Law," named after the child of one of the bill's strongest supporters.
Arizona passed several other pieces of legislation throughout the year to improve adoption and foster care policies. For instance, in May 2016, we successfully eliminated the "grandmother penalty," ensuring grandparents who step up to the plate and become caretakers for their grandchildren have the resources they need. Arizona also expanded educational opportunities for foster children by investing in a statewide FosterEd program to help foster families navigate the education system.
For more, visit: www.azgovernor.gov/annualreport