"I have pledged to be a governor for all the people. Opportunity is just a platitude unless all Arizonans are included, everyone given a fair chance and even a second chance, no one forgotten, no one written off. It is not for the state to assure success, but we can promise, and I do, that this state is on the side of your success."

Governor Doug Ducey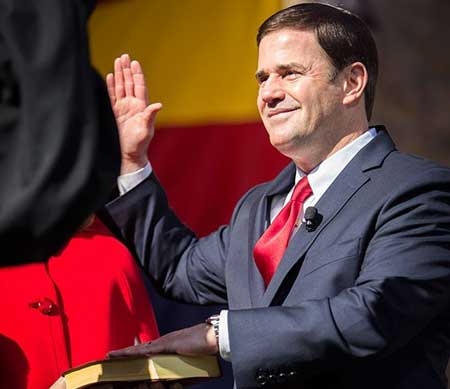 Educational Excellence
"In Arizona, educational excellence is a priority. Our goal is simple: To improve outcomes in the classroom for all our children."

Governor Doug Ducey
21st Century Economy
"Our people have put their faith in Arizona's future. They bring their families here, start businesses here, seek jobs here and build new lives here – believing in the promise of this state."

Governor Doug Ducey
Opportunity For All
"Whether it is spending, or the tax code, or changes in our public schools and legal system – or any other policy question – my first priority is simple: put more opportunities and greater freedom within reach of all our citizens."

Governor Doug Ducey
56000
*seasonally-adjusted non-farm jobs
Source: State of Arizona Office of Employment and Population Statistics
Protecting Our Communities
"In the goals we set for our government, and in the principles we follow, there's a lot to be said for simplicity. Equal justice, public safety, aid to the helpless and the defense of the weak against the strong- take care of those duties and you have served well."

Governor Doug Ducey
Balancing the Budget
"We've taken our medicine, tightened our belts in the first year – and our state is on steady fiscal ground. We have a balanced budget; we have $312 million cash carry forward; and we have $458 million in the rainy day fund."

Governor Doug Ducey
TIMELINEJanuary 2015
Governor Ducey Inaugurated, Issues Moratorium On Regulatory Rulemaking

In his first official action, Governor Ducey issued an executive order implementing a moratorium on all new regulatory rulemaking by state agencies to promote and propel job growth by preventing burdensome, antiquated and unnecessary government rules and regulations on private sector employers.

Executive Budget

Governor Ducey releases his Executive Budget proposal, a responsible and disciplined plan that closes the current state deficit and, by 2017, will eliminate the structural budget gap and set Arizona on the right path to financial solvency.

State Of The State Address

Before a joint session in the House chamber, the governor delivered his first State of the State address to the 52nd Arizona Legislature.

"I look forward to working with the Legislature to address the priority issues set forth in my State of the State address. Our state isn't without its challenges, but we have the leadership to reach our full potential.Our top priority is balancing the state's budget, and in that process, we are going to protect classrooms and we are going to protect taxpayers. So let's let politics stand down for a while as future elections wait their turn. It's time to get to work for the people of Arizona."Governor Doug Ducey

Arizona Is The First State To Pass And Sign The American Civics Act

Governor Ducey signs the American Civics Act, a bill he called for in his State of the State address, which requires all students to pass a civics test as a requirement of high school graduation.
TIMELINEFebruary 2015
Arizona Hosts Most Watched Super Bowl Ever

Governor Ducey welcomed the Seattle Seahawks and the New England Patriots to Arizona, as the host of Super Bowl XLIX. The Super Bowl was projected to have given the local economy a $720m boost. Governor Ducey also had the pleasure to attend the Wounded Warrior Flag Football game which raised money for the Wounded Warriors Amputee Football Team and the Veteran's Initiatives of Arizona.

Apple Expansion In Arizona

Governor Ducey announces Apple will be expanding in Arizona, with a $2 billion investment in Mesa on a command center for the company's global networks -- representing one of the company's largest investments in history.

"Apple is by far one of the most innovative and successful companies in the world. Its decision to bring this new facility to Mesa is a huge win for Arizona and a high testament to our business-friendly climate and talented workforce."Governor Doug Ducey

Governor Ducey Holds First Tele-Town Hall Of His Administration

Reinforcing his commitment to improving Education in Arizona, Governor Ducey holds his first of many Tele-Town Halls focused on K-12 education.

Kiva Elementary School Students Visit Capitol

Governor Ducey welcomes students from Kiva Elementary School District to the Capitol.

Washington, D.C. Visit

Governor Ducey visits Washington, D.C., visiting the White House for the first time and meeting with Governors from across the country.

Rural Health Care Expanded

Governor Ducey signs legislation that incentivizes doctors to practice in rural and underserved areas of the state.
TIMELINEMarch 2015
Countryside Elementary School Visit

Governor Ducey visits Countryside Elementary School to read with students and taking questions about various topics, including ice cream and politics.

Legislature Passes First Structurally Balanced Budget Since 2007

Just two months after Governor Ducey urged for bipartisan solutions and a balanced budget his State of the State address, the Governor signs Arizona's Balanced Budget - a bipartisan, values-based spending plan that puts Arizona on a path toward structural balance for the first time since 2007 while protecting vital areas like K-12, child safety, public safety and our most vulnerable.

"This is the job Arizonans hired us for, and I'm proud we were able to get it done in a responsible, swift and bipartisan manner."Governor Doug Ducey

Serving Arizona Event At The Beacon Group

Governor Ducey meets with The Beacon Group, and volunteers time with the organization, which assists individuals with disabilities in finding employment.

Governor Ducey Signs Fiscally Responsible Balanced Budget That Protects Arizona's Priorities

Governor Ducey signs a fiscally responsible budget plan that balances Arizona's finances without raising taxes.

St. Thomas the Apostle Elementary School Students Visit Capitol

Governor Ducey visits students at St. Thomas the Apostle Elementary School.

Archway Chandler Academy Students Visit Capitol

Governor Ducey welcomes students from Archway Chandler Academy to the Capitol. The students aced a question from the Governor about the three branches of government.

Hidden Income Tax Eliminated

Governor Ducey signs into law a policy he called for in his State of the State address, which ties the state income tax to inflation to eliminate an automatic tax hike that Arizonans face each year.

"I'm proud to sign this common-sense but significant legislation to protect our taxpayers by eliminating a hidden tax increase on Arizonans. This is one more crucial measure to keep our tax rates reasonable and predictable while further promoting our open-for-business agenda."Governor Doug Ducey

Governor Ducey Signs Legislation Prohibiting Taxpayer Funded Abortions

Governor Ducey signs legislation ensuring that taxpayer money is not used to subsidize abortions through Arizona's health care exchange.

"The American people overwhelmingly oppose taxpayer funding of abortions, and it's no different in Arizona, where we have long-standing policy against subsidizing them with public dollars."Governor Doug Ducey

Beer Bill Allows Craft Brewing Industry To Grow in Arizona

Governor Ducey signs the Arizona Beer Bill, a measure to protect and grow the craft brewing industry and create jobs in Arizona.
TIMELINEApril 2015
Regulations Eased on School Fundraising

Governor Ducey signs legislation requiring the state Department of Education to let groups sell snow cones for fundraising efforts.

Legislature Adjourns Shortest Session Since The Moon Landing

"In a few short months, we've set priorities and upheld them, made promises and kept them, and we've taken significant steps to get our fiscal house in order and improve education in the state of Arizona. I'm proud of what we've accomplished, and look forward to working with legislators in the interim and in future sessions to continue leading Arizona forward." Governor Doug Ducey

Governor Ducey Signs Legislation Reducing Barriers To Efficient, Cost-Effective Health Care

Governor Ducey signs legislation allowing individuals to obtain any laboratory testing directly from a licensed lab without a physician's orders. The bill keeps regulations lean while protecting doctors and health care providers and expanding opportunities for Arizonans to get the testing they need in a timely manner.

School Choice Expanded To Tribal Nations

Governor Ducey signs legislation that expands Arizona's Empowerment Scholarship Account (ESA) to children living on Native American reservations.

Martin Luther King Early Childhood Center Visit

Governor Ducey visits the Martin Luther King Early Childhood Center, and meets with U.S. Secretary of Education Arne Duncan.

Greater Support Provided For Children With Reading Impairments

Governor Ducey signs legislation that encourages teachers to receive training to identify dyslexia, and allows parents of dyslexic children to file an exemption from being held back for reading deficiencies.

Veritas Preparatory Academy Visits Capitol

Governor Ducey welcomes students from Veritas Preparatory Academy.

Governor Ducey Removes Unnecessary Regulations Of Rideshare Services

Governor Ducey signs bipartisan legislation that legalizes ridesharing services like Uber and Lyft in Arizona.

Opportunity Express Tour

Governor Ducey celebrates his 100th day in office with the "Opportunity Express" bus tour, visiting various cities across the state and speaking about the successful legislative session, K-12 education and the economy.

Crowdfunding Legislation Gives Innovative Access To Capital For Entrepreneurs

Governor Ducey signs legislation giving small businesses, entrepreneurs and innovators new ways to grow and thrive in Arizona. The law allows small businesses and entrepreneurs to raise money from the general public through crowd funding measures.

Buckeye Union Student Leadership Group Visits State Capitol

Governor Ducey welcomes students from the Buckeye Union Student Leadership Group.

Governor Ducey Honors Teacher Of The Year Award Recipients

Recognizing the importance of teachers and their contributions to helping Arizona's students succeed, Governor Ducey meets with past recipients of the "Teacher of the Year" award.
TIMELINEMay 2015
Governor Ducey Makes Copper The Official State Metal

Governor Ducey signs legislation making copper the official state metal. Senate Bill 1441 was sponsored by State Senator Steve Smith after a fourth-grade class at Copper Creek Elementary School in Tucson had the idea and reached out to him about it.

Moody's Upgrades Arizona's Credit Rating

Citing Arizona's passage of a structurally balanced budget, Moody's Investors Services upgraded Arizona's credit rating to Aa2, with a "stable" outlook.

"This news is a high testament to the good work we've done in a short time to get our state back on a stable path to fiscal prosperity," said Governor Ducey. "Progress like this is no accident. We headed into this year facing a $1 billion deficit, and rather than ignoring the problem or continuing to spend money we didn't have, we made a promise to balance the budget, tighten our belts, promote economic growth and protect Arizona's taxpayers."Governor Doug Ducey

Governor Ducey Announces a New Business Leadership Group To Focus On Economic Development, Promoting Arizona

Governor Ducey announced the formation of the Arizona Zanjeros, a business leadership group designed to promote Arizona's reputation as a prime place to conduct business with an unmatched quality of life. Utilizing the benefits and advantages of a public-private partnership, the organization works closely with the state's economic development partners to host visiting CEOs and provide both hospitality and first-hand accounts of what it's like to live and do business in Arizona.

Governor Ducey Holds A Statewide Leadership Summit

Governor Ducey brings Arizonans together to discuss opportunity for all in Arizona through education, healthcare and business initiatives. Speakers included Arthur Brooks, Larry Fitzgerald, Frank Luntz, Joel Klein, and Paul Pastorek.

Governor Ducey Hosts Memorial Services For Governor Raul Castro

"Arizonans will never forget Governor Castro. He was an honorable public servant, a history-maker, a beloved family man and a strong friend and fighter for Arizona."Governor Doug Ducey

Standard & Poor's Upgrades Arizona's Credit Rating

Standard & Poor's, one of the world's largest credit-rating agencies, upgrades Arizona's credit rating from AA- to AA, with a stable outlook. This improvement -- which arrives on the heels of a similar upgrade from Moody's Investor's Services -- represents Arizona's most positive credit outlook position since 2008.

Comcast Announces New Customer Support Center Resulting in New Jobs for Arizonans

Governor Ducey and Comcast announced plans to open a new customer support center in the fall of 2015 in Tucson, Arizona. The state-of-the-art 100,000 square-foot facility will bring 1,125 new jobs to the state.

Governor Ducey Visits Desert Voices

Governor Ducey visits students and staff at Desert Voices, an organization that assists children who are deaf or hard of hearing in Phoenix.

Governor Ducey Launches Classrooms First Initiative Council

Governor Ducey announces the launch of the Classrooms First Initiative Council, a team of business and education leaders charged with simplifying and modernizing the current school finance code to ensure more funding for teachers and classroom instruction.
TIMELINEJune 2015
Funding Plan Proposal To Put $2 Billion In Our Schools

Governor Ducey announces a fiscally-sound, responsible spending plan that would inject funding into K-12 schools without burdening the state budget or raising taxes on Arizonans.

"This plan is about spending more money on K-12 education in the face of budget challenges -- without raising taxes on hardworking Arizonans," said Governor Ducey. "What we've found here is a solution that will inject more resources into our K-12 schools without touching the general fund or proposing a tax increase on Arizonans. It's a solution we all can get behind. It's our money for our kids."Governor Doug Ducey

Governor Ducey Gives Keynote Water Policy Speech To SRP

Governor Ducey gives a speech on water policy. Arizona is world-renowned for its innovative and effective water conservation plan.

Uber Expansion In Arizona

Governor Ducey attends the opening of Uber's Center of Excellence in downtown Phoenix and reiterated his support of the ride-sharing company and reducing government regulation to make Arizona more business friendly. Uber's Phoenix office will employ several hundred people over the next five years.

Governor Ducey Leads Business Delegation To Mexico

Governor Ducey meets with Mexican officials and business leaders in an effort to bolster our economic and diplomatic relationships with the country.

"Mexico is Arizona's largest trading partner and we both can benefit greatly from an enhanced relationship. Since taking office, I've spoken and met with many Mexican elected officials and business leaders; we're all eager to work together to ensure both our economies prosper."Governor Doug Ducey

Governor and Mrs. Ducey Encourage Literacy Through #ReadOnAZ

In an address to parents, Governor and Mrs. Ducey encourage parents to register their children in library summer reading programs.
TIMELINEJuly 2015
Sonoran Trade Efforts Expanded

Governor Ducey announces plans to increase Arizona's trade efforts in Mexico by enhancing the Arizona-Mexico Commission's (AMC) current efforts in Sonora, Mexico.

"Arizona shares an international border with one of the fastest-growing economies in the world, Mexico. This represents a unique opportunity for Arizona business and workers to benefit from increased trade, capital investment, and job expansion." "Thriving economies on both sides of the border is a win-win for Arizona and Mexico, but that will only come by working together and demonstrating mutual respect."Governor Doug Ducey

State Announces Plans to Sell Three State Planes & Consolidate State Air Fleet

Governor Ducey announced his plan to sell three state planes, consolidate the state's air fleet and cancel the planned purchase of expensive aerial camera equipment, saving the state an estimated $2.5 million.

Governor Ducey Volunteers at Student Clothing Drive

Governor Ducey joins volunteers at Grand Canyon University for the 21st annual New Clothes, New Beginnings event – a yearly Back to School Clothing Drive that provides school uniforms, shoes, backpacks and school supplies to thousands of underprivileged elementary school children in Arizona.

Global Avionics Firm Announce Expansion in Arizona

Governor Ducey announces the opening of the first U.S. operations of AVIAGE SYSTEMS, a global Tier-1 civil avionics solution provider headquartered in Shanghai, China, which has selected Arizona as a site for high-quality research, design and manufacturing. The company's strategic expansion includes the creation of 40 high-wage jobs and nearly $5 million in capital investment with opportunities for future growth.

Patriot Academy Students Visit State Capitol

Governor Ducey meets with participants of the Patriot Academy, a program designed to train leaders who champion freedom and truth in government, media, entertainment, and education.

Governor Ducey Calls for Review of Planned Parenthood

In light of allegations of unlawful practices and procedures being performed by Planned Parenthood, Governor Ducey directs the Arizona Department of Health Services to conduct a thorough review of current law and immediately promulgate emergency rules designed to prohibit the illegal sale of any tissue from an unborn child.

Republican Governors Association

Governor Ducey is elected to serve on the Republican Governor's Association Executive Committee.

Increased Money For Border Security Enforcement

Governor Ducey announces the distribution of more than half a million dollars in additional law-enforcement funds to pay for border security programs.
TIMELINEAugust 2015
Governor Ducey Launches Reforms To Modernize Medicaid

Governor Ducey announces his plan to modernize Arizona's Medicaid program - AHCCCS - while increasing personal responsibility, encouraging wellness, expanding health technology, protecting taxpayers and promoting quality health care at an affordable price.

"Arizona can and must do better than Washington when it comes to delivering quality, cost-effective health care." "This program does that while allowing Arizonans to take charge of their own health, providing enhanced services not currently offered under the Medicaid program to meet those requirements, rewarding personal responsibility and protecting the taxpayers by cracking down on fraud, waste and abuse in the system. This is a truly innovative, one-of-a-kind Arizona approach to health care, and it sends a loud signal about our steadfast commitment to caring for the most vulnerable in our state."Governor Doug Ducey

Vista College Preparatory Visit

As part of his Back to School Tour, Governor Ducey met with students and teachers at Vista College Preparatory on August 13, 2015. During his visit, Governor Ducey participated in a ribbon cutting to celebrate the school's recent expansion.

Governor Ducey visits the Navajo Nation

Governor Ducey visits the Navajo Nation, where he met with tribal leaders, elected officials and members of the education community to tout new education initiatives that will benefit Navajo children and families. As part of his visit, the governor hosted a signing ceremony for legislation passed earlier this year that expands Arizona's Empowerment Scholarship Account (ESA) to children living on Native American reservations.

"As we move forward in our efforts to improve educational outcomes, reform health and human services and ensure the vitality and viability of our state's precious natural resources, tribal leadership will be a crucial part of the discussion. Issues that affect Arizona affect all of Arizona, and I'm keenly aware that there are also many challenges unique to our tribal nations. I want to ensure they always have a voice and a seat at the table, and I look forward to working with all of our state's tribal leaders."Governor Doug Ducey

Metro Tech High School Visit

Governor Ducey met with students and staff at Metro Tech High School. During his visit, the Governor toured several programs, including automotive, culinary arts, floral design, cosmetology, and Canyon State Credit Union, the only student run credit union on a high school campus in the state. Following his tour, the Governor delivered a guest lecture to students on financial literacy.

Oodles of Zoodles

Governor Ducey joins 10-year-old Arizona student Nia Thomas to make her original dish, Oodles of Zoodles. The dish was served earlier in the year at the White House Kids' State Dinner.

Peoria High School Student Visit

Governor Ducey visits students at Peoria High School. During his visit the Governor heard Peoria High's award-winning jazz band, visited with students of the MESA (Mathematics, Engineering, Science, and Achievement) program, and had a round table discussion with student leaders.

Refinancing Saves Taxpayers Millions

Governor Ducey announces a $33 million savings to Arizona taxpayers from the refinancing of state loans, with Arizona's recent credit upgrades adding millions of dollars to the savings

"This is more money we can invest in the things that matter – in our kids, in our schools, in Arizona priorities – rather than spending on debt financing. As a direct result of our credit upgrades, Arizonans will see millions of their dollars saved that would have otherwise been spent financing debt."Governor Doug Ducey
TIMELINESeptember 2015
Puente De Hozho Bilingual Magnet School Visit

Governor Ducey visits Puente De Hozho Bilingual Magnet School in Flagstaff. During his visit, Governor Ducey visited classrooms, met teachers and students, heard from parents, and learned about the bilingual educational opportunities that Puente de Hozho is providing its students.

Governor Ducey Announces Growing Economic Impact of Cactus League

Governor Ducey and members of the non-profit Cactus League Baseball Association release studies indicating that spring training teams and the ballparks they play in now annually generate more than $809 million in economic impact for the state.

Governor Ducey Attends Inauguration Of Sonora Governor Claudia Pavlovich

Governor Ducey travels to Hermosillo, Mexico for the inauguration ceremony of Sonora Governor-elect Claudia Pavlovich. Pavlovich made history becoming the first woman elected governor of the state of Sonora.

Alta Vista High School Visit

Governor Ducey visits Alta Vista High School in Tucson and learned more about the school's Post Secondary Education Initiative. The program aids students in preparing for life after high school graduation.

Sunset Hills Elementary School Visit

Governor Ducey visits Sunset Hills Elementary School in Surprise to celebrate Constitution Day. During his visit, the Governor visited students and staff, watched (and participated in) a 5th grade presentation of Reader Theater "Unite or Die: How 12 States Became a Nation", and listened to a 2nd grade performance of "Schoolhouse Rock: The Preamble" before reading "We the Kids" to students.

Governor Ducey Travels To Washington, D.C. To Welcome Pope Francis To The United States

Governor Ducey and Mrs. Ducey welcome Pope Francis to the United States. The Governor also joins Congressman Matt Salmon at an address from the Pope to a joint session of Congress.

"As a lifelong Catholic, I have great admiration for Pope Francis. His message of hope and compassion is one the world should hear and take to heart."Governor Doug Ducey

Freedom of Information Award

Governor Ducey is awarded the Freedom of Information Award by the Arizona Newspapers Association. The association stated, "As Governor of the State of Arizona, formerly as State Treasurer, and successful businessman in Arizona, Governor Ducey has consistently recognized the importance of transparency in government and government accountability - principles that lie at the very heart of First Amendment and Freedom of Information protections."
TIMELINEOctober 2015
Domestic Violence Awareness

Governor Ducey lights the Arizona Capitol dome purple as a symbol of Arizona's dedication to ending domestic violence.

State Boards and Commissions Audited

In keeping with his goal of increasing efficiency and reducing the size of government, Governor Ducey announces his plan to reduce the number of Boards and Commission in Arizona. As part of the plan, the Governor's office will conduct an audit of the 220 boards, commissions, councils, committees, and task forces.

Governor Ducey Salutes Arizona Soldiers Before Deployment

Governor Ducey attends the deployment of the Arizona National Guard Guardsmen to support the military's contingency operations in Kuwait.

"Today, as we salute and see you off, know that not a day of your work over the next year will be done in vain. Know that your service and sacrifice,as well as the immense sacrifices of your families, will be honored and appreciated by the eternally grateful citizens praying and waiting for you at home."Governor Doug Ducey

Water Initiative Announced

Governor Ducey announces a new two-track initiative through the Arizona Department of Water Resources to help ensure the certainty and vitality of Arizona's water supply long into the future.

International State of the State

Governor Ducey delivers the International State of the State to the Phoenix Committee on Foreign Relations and highlighted the state's export growth. In 2014, Arizona set a record high of $21.2 billion in exports. And the good news continues: While international trade in the U.S. fell 5.2 percent in the first six months of this year, Arizona's international trade has increased by more than 12.5 percent. Arizona is on track to becoming one of the TOP THREE states in the nation for export growth in 2015.

Israel Water Technology & Environment Control Conference

Governor Ducey attends an international conference on water technology and meeting with business and government officials.

"I see boundless potential for our relationship with Israel. The similarities between our two regions – both geographically and historically – are vast, and quite striking. This is perhaps best demonstrated in the way we've been able to build thriving economies in an arid desert landscape."Governor Doug Ducey

Dr. Larry Penley Appointed To The Arizona Board Of Regents

Governor Ducey announces the appointment of Dr. Larry Penley to fill a recent vacancy on the Arizona Board of Regents. Dr. Penley brings four decades of experience in higher education to the Board.

National Red Ribbon Week

Governor Ducey keynotes an address for National Red Ribbon Week, an annual awareness campaign aimed at educating Arizona communities about substance abuse and the stigma associated with addiction.

Special Session On Education Funding Convened

Governor Ducey issued a call to the Arizona State Legislature for a Special Session for lawmakers to act on a plan that injects $3.5 billion in additional dollars into Arizona schools over the next 10 years, permanently establishes certainty for K-12 funding and resolves the ongoing lawsuit over education funding.

Governor Ducey Signs the Education Funding Package Passed During the Special Session

"This is a great day for Arizona kids, families and teachers. We all know there is plenty of gridlock and partisanship in politics, but through this effort, we have proven that if we work together, in a spirit of good faith, we can improve the lives of Arizonans. I want to thank the leaders in the Legislature and the education community for working tirelessly to make this happen, and the bipartisan coalition of legislators who voted for it."Governor Doug Ducey
TIMELINENovember 2015
Arizona Capitol Hosts Special Field Hearing Of U.S. Senate Homeland Security And Governmental Affairs Committee

Governor Ducey testified before a special field hearing of the United States Senate Homeland Security and Governmental Affairs Committee titled, "America's Heroin Epidemic at the Border: Local, State and Federal Law Enforcement Efforts to Combat Illicit Narcotic Trafficking."

Governor Ducey and His Family Serve Free Thanksgiving Breakfast at an Annual Event hosted by a South Phoenix McDonalds Restaurant

Capitol Christmas Tree Lit
Looking Forward
It's been a great year. Looking forward to 2016, what issues are most important to you?
Click here to tell us